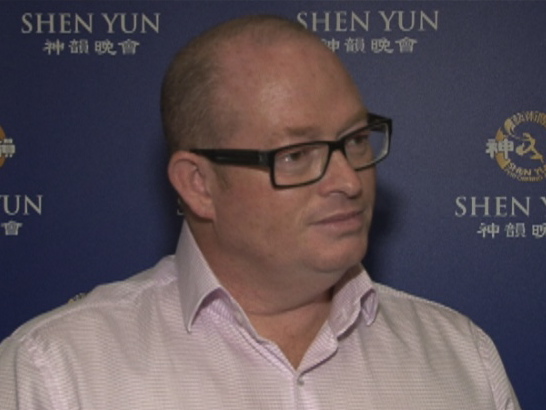 AUCKLAND, New Zealand—Darryl Evans, chief executive of a charity-based company attended the opening night of Shen Yun Performing Arts at the ASB Theatre, Auckland on Friday 20 April.
"It's a truly amazing performance and I'm just thrilled that I've had the opportunity of being here tonight," said Mr. Evans.
Mr. Evans brought his 10-year-old son to see the New York based Shen Yun, and was touched to see the joy on his son's face as he watched the performance.
Classical Chinese dance—a style considered among the most comprehensive in the world—is the vehicle used by the performers in Shen Yun to express the inner meanings of the Chinese culture and spirituality, according to the company's website.
Mr Evans particularly enjoyed the finale, Before Disaster The Divine is Rescuing, he found this piece relaxing and very peaceful.
"I think it was quite spiritual for me", he said. He also enjoyed watching the dance Lotus Leaves which evokes scenes of a flowering lotus garden in summer, says the Shen Yun programme book.
The Shen Yun orchestra masterfully blends two of the world's greatest classical music traditions, Eastern and Western.
Mr Evans said, "It adds to the vitality of it. It's really exciting—you see people playing music, you hear the music and … it's just truly stunning, it's quite beautiful."
Shen Yun uses animated backdrops, which said Mr Evans blended beautifully with the performers.
"The timing is just exquisite it's stunning."
He summed up the whole performance by saying that it was breathtaking and a real must-see.
He said, "The reality is, what I have seen tonight has been a rainbow in front of my eyes, and it's lovely."
Reporting by NTD Television and Margo MacVicar.
Shen Yun Performing Arts, based in New York, tours the world on a mission to revive traditional Chinese culture. Shen Yun Performing Arts New York Company performs in Auckland's ASB Theatre April 20-22.
For more information, visit ShenYunPerformingArts.org.