Central Party School Condemns 'Curse of the Golden Flower' Movie
February 11, 2007 12:00 am Last Updated: February 11, 2007 12:00 am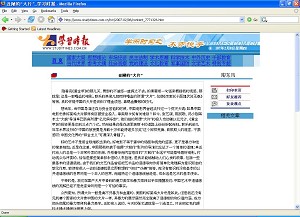 On February 8 The Study Times newspaper, a publication by the Central Party School of the Chinese Communist Party (CCP), published an article condemning the movie Curse of the Golden Flower directed by Zhang Yimo. The article, entitled "Ugly 'Big Film'" says, "today Zhang Yimo is nobody but a painter. He can only pour large barrels of red paint on the screen."
In an interview with The Epoch Times, the chief editor of the journal Trend Zhang Weiguo, and world affairs commentator Wu Fan stated that the CCP has recognized that promoting Curse of the Golden Flower will reveal the truth about the CCP's past actions, which are not positive. The CCP has come out to oppose the film.
Zhang Weiguo and Wu Fan also pointed out that The Study Times is the mouthpiece of the CCP's Central Party School. The article reveals a power struggle within high levels of the CCP as well because the article in The Study Times is different from the Xinhua News Agency and other major propaganda channels of the CCP. It reflects the struggles among the CCP factions in power.
Using Each Other
Zhang Weiguo stated that Zhang Yimo and Curse of Golden Flower is an example of how the CCP use artists and artists use the CCP.
"Zhang Yimo and some other artists and the CCP use each other. With killing and violence portrayed in the artwork, the artists help the CCP to brainwash people to believe that the CCP is better than the authorities in ancient China. In dealing with the CCP, they obtain their fame and money, and they are even able to gain some international exposure in the entertainment business; on the other hand, the CCP uses them to cover up its autocracy and to twist the essence of real Chinese traditional culture. Even before the shooting was finished, the CCP already launched a big promotional campaign and talked about international awards," Zhang Weiguo said.
Zhang Weiguo pointed out that the reason for The Study Times criticizing the movie is because the original objective to receive international recognition has failed. The reputation of Curse among intellectual circles and the people is not good.
Wu Fan stated that although violence exists in many famous Hollywood films, these films have a level of morality and show good defeating evil. However, Curse is full of struggles, adultery, violence and killing. It is a reflection of the CCP's own nature.
Zhang Weiguo expressed how The Study Times is a mouthpiece for the CCP's Central Party School. It is different from the Xinhua News Agency, The People's Daily, CCTV and other propaganda shows. The Central Party School has always played an important role in the CCP's power struggles. At present, the principal is Zeng Qinghong, who is trying to seize power from Hu Jintao.