A celebrity TV chef and her daughter reportedly died in the Easter bombings in Sri Lanka on April 21.
Shantha Mayadunne was famous on the island nation because of her cookbooks, a TV show, and culinary school.
She and her daughter, Nisanga, were staying at the Shangri-La hotel in Colombo, reported the Evening Standard. It was one of four hotels targeted in the attacks.
Friend Radha Fonseco told the Gulf News: "Nilanga was a very popular girl in college. Besides the fact that she was bright and smart, her mother Shantha Mayadunne, a renowned chef, made her more popular in college. She (the mother) was well respected and an inspirational chef for Sri Lankans."
Hours before the bombings that left more than 200 dead, Nisanga posted a photo with her relatives on Facebook, saying, "Easter breakfast with family."
About 35 tourists, which include Americans, British, and Dutch nationals, are believed to be among those killed in the blasts, according to reports.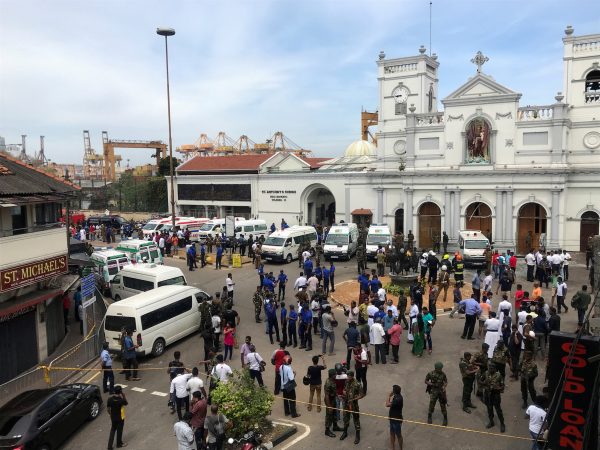 The explosions occurred at three Christian churches holding Easter services as well as several hotels. At least 207 were killed and hundreds more were injured, ABC News reported.
President Donald Trump offered his condolences to Sri Lanka, saying "the United States offers heartfelt condolences to the great people of Sri Lanka. We stand ready to help!"
Celebrity chef, daughter killed in Sri Lanka bombings https://t.co/aSYwHUw6Zj pic.twitter.com/zUPmqoUbjd

— New York Post (@nypost) April 21, 2019
White House press secretary Sarah Sanders, in a statement, said that "the United States condemns in the strongest terms the outrageous terrorist attacks in Sri Lanka that have claimed so many precious lives on this Easter Sunday."
"Our heartfelt condolences go out to the families of the more than 200 killed and hundreds of others wounded," Sanders added. "We stand with the Sri Lankan government and people as they bring to justice the perpetrators of these despicable and senseless acts."
Sri Lanka's police chief issued a nationwide alert 10 days ago about potential suicide bombers on Easter.
"Some intelligence officers were aware of this incidence. Therefore, there was a delay in action. What my father heard was also from an intelligence officer. Serious action need to be taken as to why this warning was ignored," Harin Fernando, a member of parliament in Sri Lanka, said on Sunday.
The bombings were the worst outbreak of violence since the end of the Sri Lankan civil war between the Marxist Tamil Tigers organization and the government in 2009. Robert Pape, director of the Chicago Project on Suicide Terrorism, said in 2009 that the Tamil Tigers were suicide bomb innovators.
"The Tamil Tigers are a purely secular suicide terrorist group. They're not a group that most of the listeners will have heard too much about because even though they're actually the world leader in suicide terrorism from 1980 to 2003, carrying out more suicide attacks than Hamas or Islamic Jihad," he said at the time.
138 people have been killed in Sri Lanka, with more that 600 badly injured, in a terrorist attack on churches and hotels. The United States offers heartfelt condolences to the great people of Sri Lanka. We stand ready to help!

— Donald J. Trump (@realDonaldTrump) April 21, 2019
It's not clear who was behind the attacks on Easter Sunday.
No terrorist organization, including the Tamil Tigers, claimed responsibility.