At least two more people have died from severe lung illnesses connected to vaping, bringing the U.S. death toll to 12.
The U.S. Centers for Disease Control and Prevention (CDC) said on Sept. 26 that the mysterious outbreak of the lung disease has worsened, with a 52 percent surge over the previous week.
So far, 12 people have died in 10 states, the agency said, citing data compiled until Thursday, Sept. 26.
"Most patients have reported a history of using e-cigarette products containing THC. Many patients have reported using THC and nicotine. Some have reported the use of e-cigarette products containing only nicotine," the agency said.
Meanwhile, 805 cases of lung injury have been reported across 46 states and one U.S. territory. Nearly three-fourths, or 72 percent, of cases are male, and two-thirds of the cases are people between the ages of 18 and 34. About 38 percent of cases are people under 21 years of age, while 17 percent are people who are 35 or older.
On Thursday, Mississippi health officials announced the state's first death linked to the lung illness.
"Any death related to vaping is one too many, and this is entirely preventable," said Mississippi Department of Health official Dr. Paul Byers said in a statement on Thursday. "We grieve with the family over this loss, and our hopes are that this helps emphasize how serious the dangers of vaping can be."
"I think we are just now starting to see some of the dangerous health outcomes of vaping," said Mississippi State Health Officer Dr. Thomas Dobbs. "There is still so much we don't know. It's uncharted territory."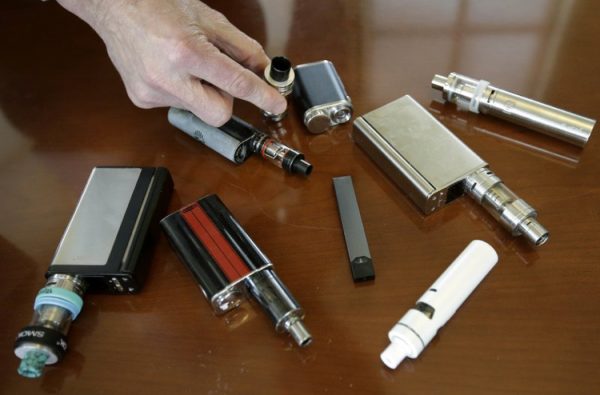 A day before, Georgia and Florida reported the first deaths in their respective states from vaping-related illnesses.
Georgia health officials said the person who died had "a history of heavy nicotine vaping," and did not vape THC, the active ingredient in marijuana.
Florida health officials didn't share any details on the death in their state.
Public health officials, in the meantime, have called on consumers to not use e-cigarettes or other vaping products.
The CDC has also recommended for people to not use vaping products off the street, adding that they should not add products that aren't intended by the manufacturer.
"If you are an adult who used e-cigarettes containing nicotine to quit cigarette smoking, do not return to smoking cigarettes," the agency said. "If you have recently used an e-cigarette or vaping product and you have symptoms like those reported in this outbreak see a healthcare provider."
Adults who do not smoke cigarettes or chew tobacco also should not pick up vaping, the CDC also said.