Center for Disease Control and Prevention (CDC) Director Dr. Rochelle Walensky and American Federation of Teachers (AFT) President Randi Weingarten both said Tuesday they do not support ending mask mandates for school children, amid a growing trend by states to end masking in schools.
Weingarten said she would support the end of masks if there is no transmission in schools.
"So, the real question becomes, how do we make sure that people can plan for it and what are the measures so that everybody knows, so it doesn't feel like it's based upon politics, it feels like it's based upon making sure that there's no transmission in school," Weingarten said on MSNBC Feb. 8.
"I asked Dr. [Miguel] Cardona and Dr. Walensky to start planning for an off-ramp [to masking kids] in November pre-Omicron. But then you had the Omicron surge and the masks were back on and then the K-95 masks were back on," Weingarten added.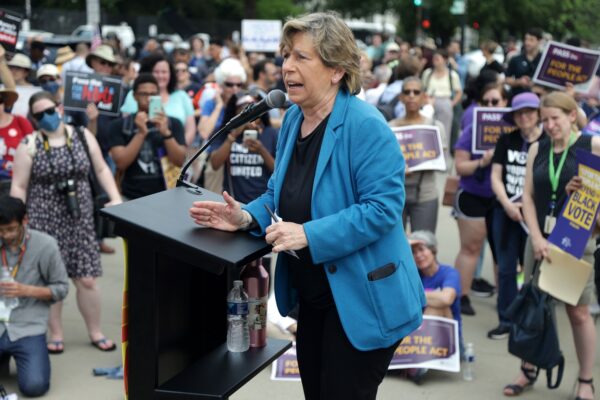 Meanwhile, Walensky told Reuters on Feb. 8 that CDC guidance has always recommended masking in schools and continues to adhere to this rule.
"We continue to recommend universal masking in our schools. And so, our guidance has not changed, and what I will say is in this current moment, I'm pleased to say that about 96 percent of our children are in schools and that the masking has allowed them to be in school safely," said Walensky.
Their comments were made after announcements by Democrat officials in a growing number of states like Oregon, Connecticut, New Jersey, Delaware, and California say that they plan to end mask mandates for K-12 public schools in the next few weeks.
Walensky does not recommend ending the masking because she said the overall infection rates in the United States are close to 300,000 a day and deaths from COVID are at 2,300 a day.
Critics of mask mandates for children say that the mitigation strategy has done more harm than good.
Ian Jameson is the founder of Los Angeles Leftists for Choice and Unity, a group of people who lean left politically yet are against COVID-19 related mandates.
"Americans are guaranteed by law the right to refuse the use of all [emergency use] medical products. Therefore, all school districts, not just in Orange County but in the United States, are violating federal law by mandating students to use these [emergency use] masks," Jameson told The Epoch Times.
According to Jameson, there are "voluminously documented adverse health consequences" regarding masks and children, including headaches, shortness of breath, and anxiety, to name a few that "make the mandating of these dangerous and useless medical devices a form of child abuse."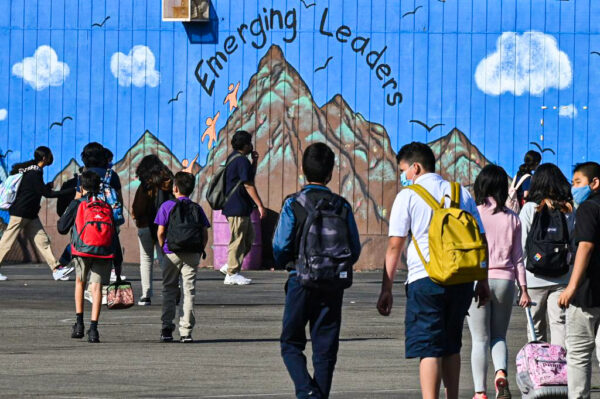 "I and Los Angeles Leftists for Choice and Unity will continue to fight alongside Republicans and Americans from all ideological orientations to stop the abuse of California children," Jameson told The Epoch Times via email.
The Oregon Health Authority and Department of Human Services also said Monday that state health officials said they would consider lifting the indoor mask mandate earlier than March 31, if hospitalizations decline to the levels projected to the end of March sooner than expected.
School districts, however, will have mask requirements lifted on March 31 regardless of the level of COVID-19 hospitalizations, to give school districts time to prepare.
Weingarten praised the governors of New York and New Jersey for using science-based metrics in their decision about masking in schools instead of politics.
She said politicians should follow science and not make decisions based on politics.
"You've got lots of parents who are still afraid. You've got lots of people who are still afraid because we've just gone through Omicron."
Isabel van Brugen and Drew Van Voorhis contributed to this report.