The number of children who have contracted the rare, polio-like illness acute flaccid myelitis (AFM) has risen to 116, said the U.S. Centers for Disease Control and Prevention (CDC).
Cases of AFM in the year 2018 have been found in 31 states as of Nov. 26, the CDC said, and it noted that more than 90 percent of patients affected are children. Patients typically had mild respiratory illness before developing the disease.
The CDC said it is investigating another 170 cases of people who have symptoms that are consistent with AFM.
The largest number of cases, 15, have been reported in Colorado. Fourteen cases were reported in Texas, eight were reported in Ohio, eight were reported in Washington, and eight in Minnesota, officials said.
The agency announced last week that it would set up a task force to investigate what causes AFM and how to treat it.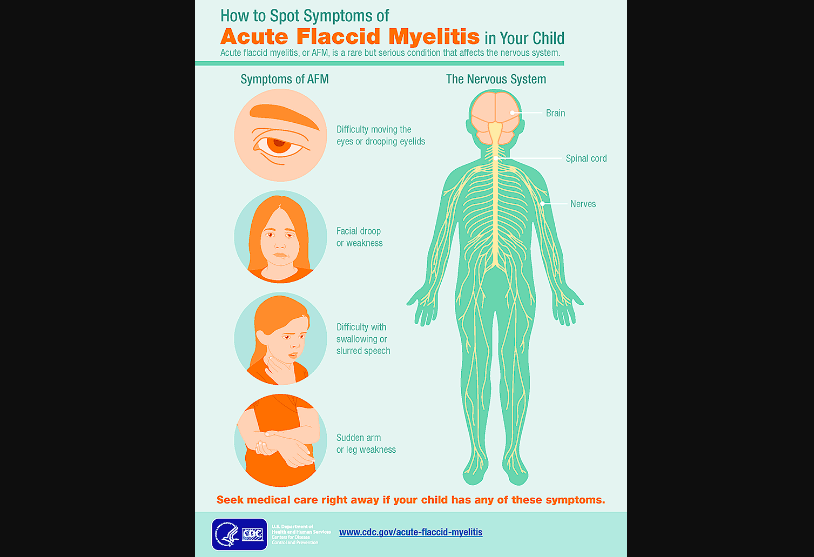 "This task force will ensure that the full capacity of the scientific community is engaged and working together to provide important answers and solutions to actively detect, more effectively treat, and ultimately prevent AFM and its consequences," said CDC director Robert Redfield in a statement on Nov. 19.
The CDC's new task force "will bring together experts from a variety of scientific, medical, and public health disciplines to help solve this critical public health issue."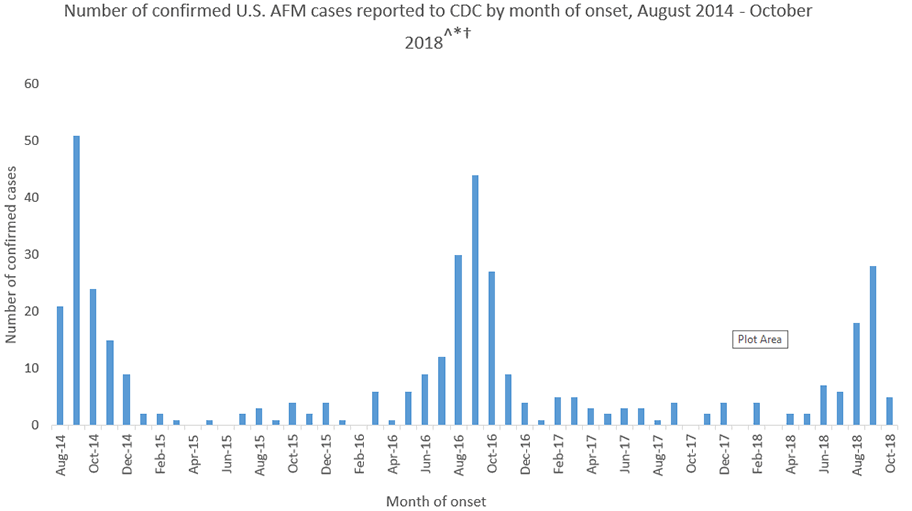 The CDC began tracking AFM after an uptick in cases of the illness in 2014.
"At this same time of year, many viruses commonly circulate, including enteroviruses, and will be temporally associated with AFM," the CDC said.
"Since AFM affects the spinal cord, finding a pathogen (germ) in the fluid that surrounds the spinal cord would be good evidence for a cause. CDC has tested many different specimens from AFM patients for a wide range of pathogens that can cause AFM," it added.
AFM Symptoms
Described as a "rare but serious condition," AFM affects the nervous system, namely the area of the spinal cord called gray matter, according to the CDC. In turn, it causes the reflexes and muscles in the body to weaken, the agency said. Even though the condition "is not new," there has been a larger number of cases reported since 2014.
Symptoms include weakness and loss of muscle tone and reflexes in the arms or legs, facial weakness, difficulty moving the eyes, drooping eyelids, difficulty swallowing, and slurred speech.
"Numbness or tingling is rare in people with AFM, although some people have pain in their arms or legs. Some people with AFM may be unable to pass urine (pee). The most severe symptom of AFM is respiratory failure that can happen when the muscles involved with breathing become weak. This can require urgent ventilator support (breathing machine). In very rare cases, it is possible that the process in the body that triggers AFM may also trigger other serious neurologic complications that could lead to death," says the agency.