Dr. Robert Redfield, the head of the Centers for Disease Control and Prevention (CDC), said the United States is nearing its peak in the CCP virus outbreak, but stressed the country needs to reopen wisely.
He said that the peak, or apex, will arrive "hopefully, sometime this week," he said in a Monday morning interview. "You'll know when you're at the peak when the next day is actually less than the day before" in terms of cases.
The United States is stabilizing at the moment in terms of the rate of the Chinese Communist Party (CCP) cases being confirmed, deaths, and hospitalizations, the CDC director told Today.com.
The Trump administration has expressed a willingness to reopen the country and economy as job losses and unemployment claims mount. More than 40 governors have issued statewide stay-at-home orders, effectively closing down schools and businesses deemed nonessential in an attempt to curb the spread of the CCP virus, which is commonly known as the novel coronavirus.
But like other top health authorities in the White House, Redfield said that they will have to examine a number of different factors before the economy can be reopened.
"We have to substantially augment our public health capacity" to ramp up testing, tracing, and identifying cases, he said, adding that the hospital and medical capacity should be bolstered in the meantime.  "There is no doubt that we have to reopen correctly" in a "step-by-step process," Redfield said.
Redfield also downplayed claims that federal officials ignored early warning signs of the virus, which emerged late last year in Wuhan, China, before CCP mismanagement and coverup efforts led to a global pandemic.
"[It] wasn't until Feb. 28 that we saw our first community outbreak" in the United States, Redfield noted in the interview, adding that all of the early cases involved people traveling from China.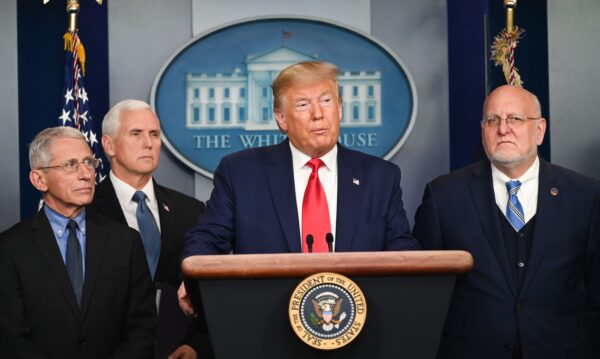 "Right now, our job is getting through this outbreak," he explained.
His comments come a day after New York Gov. Andrew Cuomo reported that the patients in the state's hospitals due to COVID-19 increased by just 53 people on April 11, which is the lowest total in around a month. The average of daily hospitalizations has decreased over the past week, he said.
"This is the number that we have been watching because the great fear for us was always overwhelming the hospital system, the capacity of the hospital system," Cuomo said on Sunday.
New York is currently the CCP virus epicenter after reporting its first case on March 2. So far, nearly 10,000 people have died of the CCP virus alone in the state. Of those, more than 6,300 people have died in New York City.