CCP's Military Aircraft Crashes in China
June 15, 2006 12:00 am Last Updated: June 15, 2006 12:00 am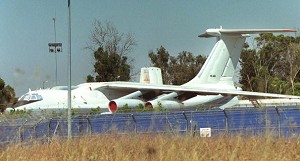 A Chinese military plane crashed into a hillside in the south-eastern part of Anhui Province in China on June 3, killing all 40 passengers. The China News Service (CNS) reported that it was a transport plane while Xinhua News Agency said that the plane was 'on a mission'.
Chinese media officials did not explain what the mission was or the possible cause of the accident. Foreign media reported that the accident might have been caused by a mechanical failure because the weather was good when the accident happened. Authorities sealed off the area for further investigation.
Communist Party leader Hu Jintao sent a telegram of condolences to the family members of the crew and ordered an immediate investigation into the cause of the crash. Guo Boxiong, a standing Commissioner for the Political Bureau of the CPC Central Committee and Deputy Chairman of the Central Military Commission, is currently leading the accident investigation .
Huang Dong, a military commentator in Macao, said it was impossible that Guo Boxiong, a high level general from the CCP's Central Military Commission, had been appointed to lead the investigation if it were just a transport plane. The aircraft must have carried very important people and the crash had a very negative impact on the Liberation Army. The accident caused the death of 35 technicians and five crew members and could hinder one of China's most important military programs.
Hong Kong-based Metro Radio reported that witnesses said that two of the deceased were not in military uniform. Although the CCP official media claimed that the aircraft was a transport airplane, Hong Kong-based Ta Kung Pao reported it was an airborne warning and control system (AWACS) plane. Sources from Taiwan also claimed the aircraft was a KJ-2000. The Central News Agency quoted Lu Siqing, a spokesperson for Information Center for Human Rights & Democracy (ICHRD), who also said that the aircraft might have had been a AWACS plane, the KJ-2000.
ICHRD identified one of the passengers as Chen Qiuxua, an engineer at the Thirty Eight Research Institute of the China Electronics Technology Group Corporation. Because the accident involved university professors, it indicates that military projects are occurring inside universities. This would mean that China's actual military spending is far higher than the number it officially published. A lot of important military research spending is outside of the military expenditure and covered by private research institutes.
China's official army budget for 2006 was 283.8 billion yuan, a 14 percent increase compared to 2005. However, the London-based International Institute for Strategic Studies said China's military spending was 1.7 times higher than officially stated.