The number of people getting infected with the CCP virus has continued to decrease across the UK, newly released data shows.
According to figures released on Friday by the Office for National Statistics, approximately 1 in 220 people in England were infected with the virus in the week ending Feb. 27.
The latest release of our #COVID19 Infection Survey shows infection rates have continued to decrease across the UK in the week up to 27 February 2021 https://t.co/JmLPsNMSNl pic.twitter.com/X4OjwRrHAa

— Office for National Statistics (ONS) (@ONS) March 5, 2021
In Wales, the percentage of people testing positive was estimated to be around 1 in 285 people.
In Northern Ireland, the figure is around 1 in 325 people. And about 1 in 335 people had the virus in the same period in Scotland.
The figures are roughly in line with new findings from REACT-1, one of the country's largest studies into COVID-19 infections in England, which is conducted by Imperial College London and Ipsos MORI.
Infections fell by two-thirds from the last REACT-1 report in January, with 1 in 204 people infected, according to the new report.
Some backbench MPs in the ruling Conservative Party say the dropping infection rates mean the government should ease CCP (Chinese Communist Party) virus lockdown measures more quickly.
Prime Minister Boris Johnson on Feb. 22 set out his "roadmap" out of the lockdown, which includes four stages with five weeks in between.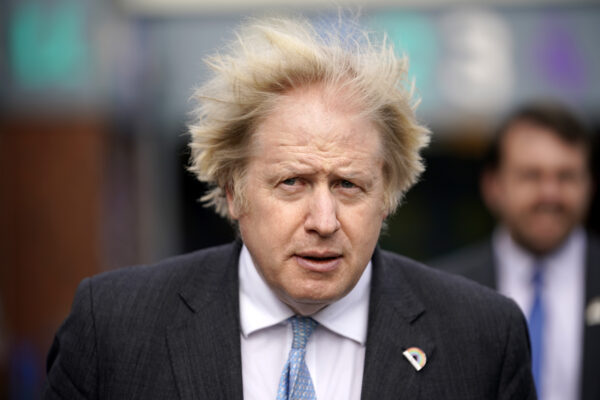 Under the government plan, COVID-19 restrictions on social contact will not be completely removed until June 21 at the earliest.
Sir Graham Brady, chairman of the influential 1922 Committee of Conservative MPs, told NTD last week that the pace of the planned exit is "slower than many of us would have liked" and "slower than the data would suggest is possible."
He said there was "some frustration" among Tory MPs, who "would like to see more progress, more freedom given back to our constituents."
Brady suggested that the actual data supports a faster pace of easing, "because we've got both a rapidly falling level of COVID infection, and following on from that, rapid falls in hospital admissions and in deaths from COVID."
The COVID Recovery Group (CRG), a group of lockdown-sceptical Conservative MPs who had previously demanded the government lift all restrictions by the end of April, also expressed disappointment at the pace of the government's roadmap.
Steve Baker, deputy chairman of the group, said the slow exit from lockdown was "a hammer blow to aviation, pubs, restaurants, hotels, gyms and pools, the arts and entertainment."
With reporting by Jane Werrell of NTD.