The number of deaths involving the CCP virus has risen for the fourth week in a row in England and Wales according to official statistics, with "novel coronavirus" mentioned in 321 death registrations.
That's an increase of 106 from the previous week's figures, according to an Oct. 13 statement from the Office for National Statistics (ONS).
The latest figures from the ONS are for the week ending on Oct. 2, and are provisional.
Weekly CCP (Chinese Communist Party) virus deaths were last that high in July, after falling from a peak of 8,758 in April and reaching a low point of 78 in September.
CCP virus deaths accounted for 3.2 percent of all deaths in England and Wales for the latest week.
The ONS figures also offer a comparison with overall death rates.
In Week 40 (ending Oct. 2) "the number of deaths registered was 4.1 percent above the five-year average (390 deaths higher)," according to the ONS.
But fewer people are dying in the hospital.
"The numbers of deaths in hospitals and care homes remained below the five-year average in Week 40 (233 and 81 fewer deaths respectively), while the number of deaths in private homes remained above the five-year average (725 more deaths)," according to the ONS.
The death rate among different age groups had not changed from the previous week.
Three Tier System
With rising cases and the track and trace system struggling to get off the ground, the government yesterday announced a new three-tier approach to managing the spread of the virus.
Following the announcement, it emerged that the government had shunned the official advice of their scientists, who had recommended on Sept. 21 a more stringent "circuit-breaker" lockdown.
MPs will today vote on whether the measures announced by the prime minister will now become law.
Prime Minister Boris Johnson said that the new system aimed to simplify the patchwork of locally tailored restrictions.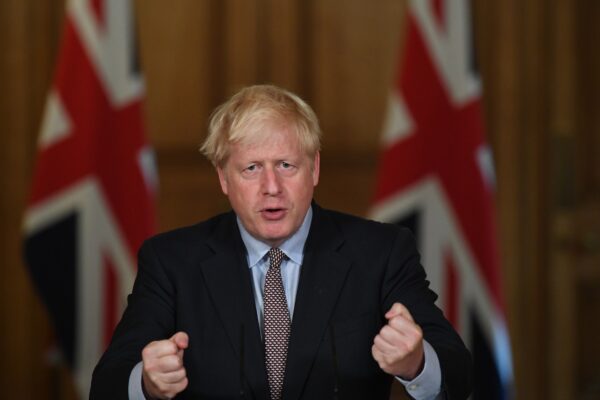 The highest category, a "Very High" alert, means the "transmission rates are rising most rapidly" in the area, and the local NHS "could soon be under unbearable pressure without further restrictions," Johnson told Parliament.
Private social gatherings indoors and in gardens would be banned in these areas, and pubs, bars, gyms, leisure centers, casinos, libraries, beauty salons, and hairdressers could be prevented from opening. Restrictions on travel would also be recommended.
Liverpool has been placed into this category.
The second tier restrictions, "High," are similar to the localized restrictions already in place in many regions such as Birmingham. The new category lifts the previous ban on mixing in private gardens, allowing up to six people to socialize.
The lowest level category, "Medium," continues the previously established "rule of six."
All regions of England are under "medium alert" or higher.
Lily Zhou contributed to this report