On the morning of July 20, 2007, thousands of people from all over the world gathered at the northern side of the Washington Monument at the U.S. Capitol to support 24 million Chinese people quitting the Chinese Communist Party (CCP). Dozens of Chinese people from New York and Boston declared their withdrawal from the CCP at the rally and more than 20 people in mainland China declared their withdrawal from the CCP via the Sound of Hope International Radio Station.
The following is the speech given by Yuan Sheng at the rally (transcribed from the recording of his speech).
"Greetings! My name is Yuan Sheng, formerly a flight captain for China Eastern Airlines. I was accused because I promoted Nine Commentaries on the Communist Party (The Nine Commentaries) at Shanghai airport. When my life was in danger, I had to stay in the U.S. to avoid potential persecution if I went back to China.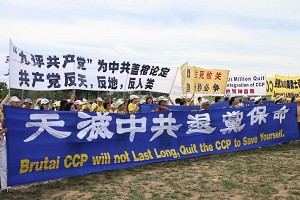 "Since the publication of The Nine Commentaries , my friends overseas and I have introduced and spread it to those people who desire to know the true facts. Many of them have passed their statements of quitting the CCP to me and let me help them to quit the CCP via telephone or Internet when I was traveling overseas.
"Since the publication of The Nine Commentaries , many of my colleagues and other people have often read the overseas reports about Chinese people quitting the CCP, and some of them even spoke about it publicly in China. This showed that Chinese people no longer have fear after the long-term terror. However the CCP is desperately attempting to hide from the public the fact of the massive withdrawals from the CCP; this indicates that it is the CCP that is truly afraid.
"The CCP is doomed to be eliminated by heaven. I sincerely hope all kind-hearted people in mainland China can read The Nine Commentaries and recognize the evil nature of the CCP. I hope people will eventually stay away from the CCP, cast it aside in order to choose a bright future. The most evil and brutal persecution toward Falun Gong should also be ended soon.
"Thank you all."