HONG KONG—Craigengower Cricket Club's title-defending journey was back on track after defeating second-placed Hong Kong Football Club at home last Saturday, Feb 11, in the HKLBA Triples League.
CCC were trailing two HKFC teams before the weekend after suffering 2 draws and one defeat in the previous 3 games. Leaders HKFC-B were not in action last Saturday because their opponents Kowloon Bowling Green Club were on a bowls tour in Bangkok, CCC were well aware that they could climb back to the summit should they defeat HKFC-A.
The match did not go as planned as the team skipped by young player Lee Ka Ho fell quickly to a 11-18 defeat at the hands of Johnny Tsang. When ex-Hong Kong international Stanley Lai brought victory to CCC with a scoreline of 24-14 against Wagner Chan, all eyes were on the last team skipped by youngster Simpson Chang.
Chang was holding a one shot advantage into the last end and also held shot in this end. His opponent Wing Chan used all 3 shots to try take out the holding shot but in vain. Chang hung on and won the game 19-16.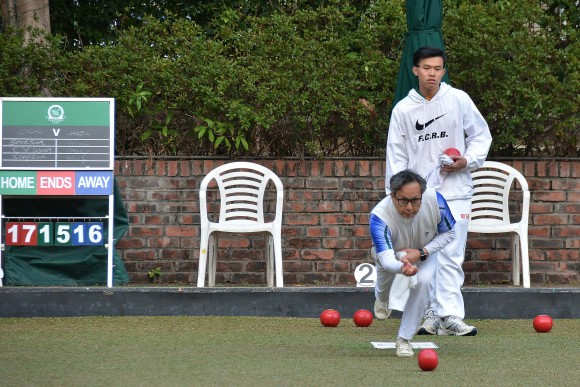 With the 6-2 victory, CCC leapfrogged both of the HKFC teams and returned to the summit. Now they have 36 points, three more than the two HKFC teams but HKFC-B have a game in hand.
This Saturday will see a top-of-the-table clash between CCC and HKFC-B which could well be the title decider. CCC need to overcome their poor away form this season because they have dropped a total of 18 points in the last 4 away games.
At the other end of the table, Club de Recreio boosted their hope of survival by beating the A team of KBGC 6-2 at home. The two teams are now level on points but still anchored at the bottom of the table. CdeR are lying one point less than KBGC-B who have a game in hand.
In the women's competition, leaders Island Lawn Bowls Club look almost certain to win their first ever Triples League title after defeating 5-time champions HKFC 2-6 away from home. With a game in hand, ILBC are now leading 2nd-placed defending champions Shatin Sports Association by 6 points.
STSA continued their push for the title with an 8-0 demolishing of KBGC-A which also pushed the latter closer to the relegation zone.
Second-placed CCC suffered a 1-7 defeat at the Cox Road green of Kowloon Cricket Club and are now on the same points as STSA but with an inferior shot difference.
All games have been completed in the women's Division 6 and the C team of Island Lawn Bowls Club are crowned champions. They will move up a division next season together with runners-up Shatin Sports Association.
This week in lawn Bowls
The Triples League continues this coming Saturday Feb 18 with matches starting at 2:30pm at all Lawn Bowls Greens in Hong Kong. On Sunday Feb 19 round 4 of the National Fours is scheduled at all lawn bowls greens in Hong Kong.
Standings

Claudius Lam is an officer of the Hong Kong Lawn Bowls Association.