The cause of death for The Cars singer Ric Ocasek was revealed by the New York City medical examiner's office on Sept. 16.
Ocasek died of cardiovascular disease at the age of 75, reported Yahoo News.
The specific cause of death was determined to be hypertensive and atherosclerotic cardiovascular disease, or atherosclerosis, which is a build-up of plaque in the arteries. The condition can cause hardening or narrowing of the heart muscle, the report said.
The office said that pulmonary emphysema was a contributing factor in his death.
Ocasek's wife Paulina Porizkova, the former supermodel, issued a statement on social media.
"Ric was at home recuperating very well after surgery," she wrote on Instagram. "Our two sons, Johnathan and Oliver, and I were making sure he was comfortable, ordering food and watching TV together."
View this post on Instagram
Porizkova added that she "found him still asleep" after bringing him coffee. She touched his cheek to wake him up, and "it was then I realized that during the night he had peacefully passed on."
"We appreciate the great outpouring of love. We, his family and friends, are completely and utterly devastated by this untimely and unexpected death and would appreciate privacy to mourn," she concluded.
The Cars official Twitter account posted a statement from his sons that "his passing was sudden, unexpected, and beyond heartbreaking."
"Yesterday, we found this last doodle on his armchair. He couldn't have known what it would end up meaning to us. We love him so much," they said, including a photo of the drawing.
Porizkova also went on Instagram to thank the fans who left flowers.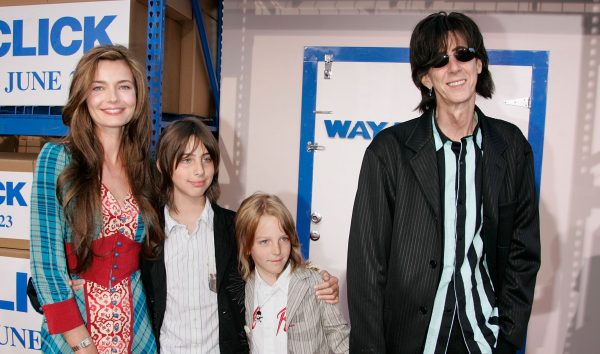 Law enforcement sources told the New York Post that he was found dead in his Manhattan apartment on Sunday at 4:14 p.m.
Sources said he appeared to have died of natural causes.
According to an Allmusic.com description of The Cars, the band "racked up a string of platinum albums and Top 40 singles, becoming the most successful American new wave band of the late '70s and early '80s."
The group is known for hits "Just What I Needed," "My Best Friend's Girl," "Good Times Roll," "Drive," "Bye Bye Love," and others.