A 60-year-old man has fought off a wild leopard with his bare hands and a stick in an Indian village.
Footage of the animal approaching the man was captured by terrified neighbors.
The powerful feline reportedly went to on to attack a neighbor and a 50-year-old woman. Villagers are heard shrieking in the background as the man wards off the leopard.
Source: News Lions/YouTube
The dramatic video shows the man bravely grappling with the wild animal in the rural village of Khairi, Uttar Pradesh on Thursday, Dec. 7 according to the Mirror.
He manages to break free from the cat's grip, as it plunged its teeth into his limbs.
"As people started hooting and chasing the beast away, the leopard entered the house of the 60-year-old man and mauled him brutally," one witness said, according to the newspaper.
"When his neighbours' son tried to help the man, the leopard pounced on him. Both the men put up a strong fight against the leopard.
"Sensing trouble with the number of people increase at the scene, the leopard ran away. Next, it pounced on a 50-year-old woman who was sunbathing in front of her house."
The animal eventually ran off into the nearby sugar cane fields.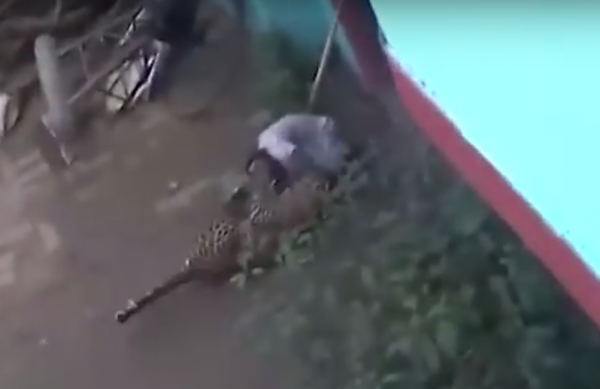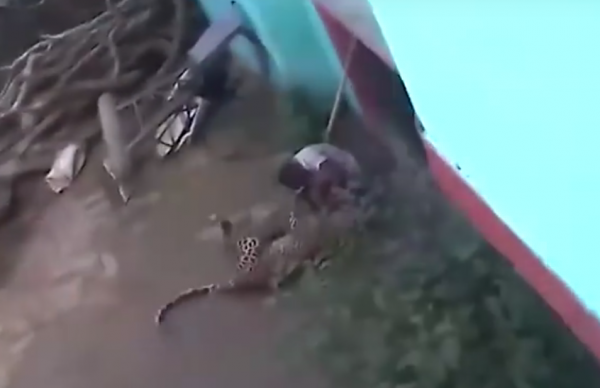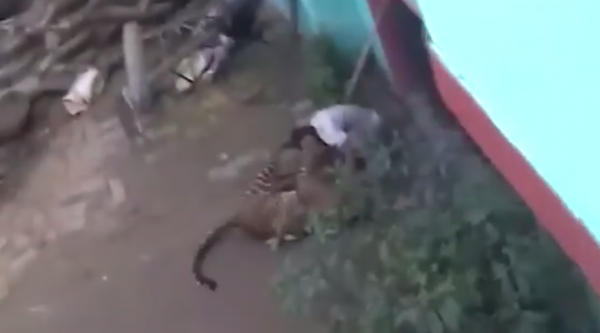 In 2014, NDTV reported that a 56-year-old woman, who was armed only with farm tools, was attacked by a leopard.
Kamla Devi was fetching water from Uttarakhand state when the animal pounced on her, according to the BBC.
The woman suffered multiple injuries, including fractures and cuts during the clash.
Armed with a sickle and spade, she fought with the animal for almost half an hour, before finally realizing the animal was dead.
"I thought I was dead but I did not lose patience and courage," she told reporters. "I fought head-on with it for almost half an hour."
What are your thoughts on leopard attacks? Share this article. Join the conversation.