An exclusive group of Canada's top fashion designers recently unveiled their latest works—made entirely of Cashmere Bathroom Tissue—kicking off October Breast Cancer Awareness Month.
It was the 16th annual Cashmere Collection and showcased 16 beautiful designs to an overflow runway audience at the Globe & Mail Centre in Toronto.
"This is a wonderful evening that shows the talent this country really has," said Nancy Marcus, chief marketing officer for Kruger Products, which produces the tissue. "We're very proud of putting our mark behind such a worthy cause and we never forget the women who struggle every day with the disease. Raising awareness and funds for breast cancer is integral to this initiative and we're delighted to be among the top five partners supporting (the cause) at the Canadian Cancer Society."
Twenty five cents from the sale of every specially marked package (up to a maximum of $35,000) goes directly towards breast cancer efforts at the Canadian Cancer Society throughout the month of October.
This year's collection pays tribute to the Legends of Fashion with designs inspired by fashion greats such as Dior, Givenchy, Yamamoto, and Versace. Over the past 16 years, the Cashmere collection has featured more than 195 Canadian designers in the world's first and only fashion collection crafted in luxuriously soft sheets of Cashmere Bathroom Tissue. The project has made millions of dollars for cancer research, education and awareness.
Dee Silkie, based in Toronto but originally from Fredericton, New Brunswick, said she was honoured to have her work included in the show calling it a "huge" creative challenge."Working with tissue was totally different," she said. "My first objective was simply not to rip it … I had to approach the project with an entirely different mindset." Silkie's collection is aimed at trendy bold women who care about, style, fashion and art. She chose designer Pierre Balmain as her inspiration and her contribution to the show—a simple shift dress—alluded to his signature checkerboard patterns and popularity among international movie starlets. Working with the tissue involved a lot of extra planning." she said. "It's a challenge but nowhere near the challenge it is for those facing cancer."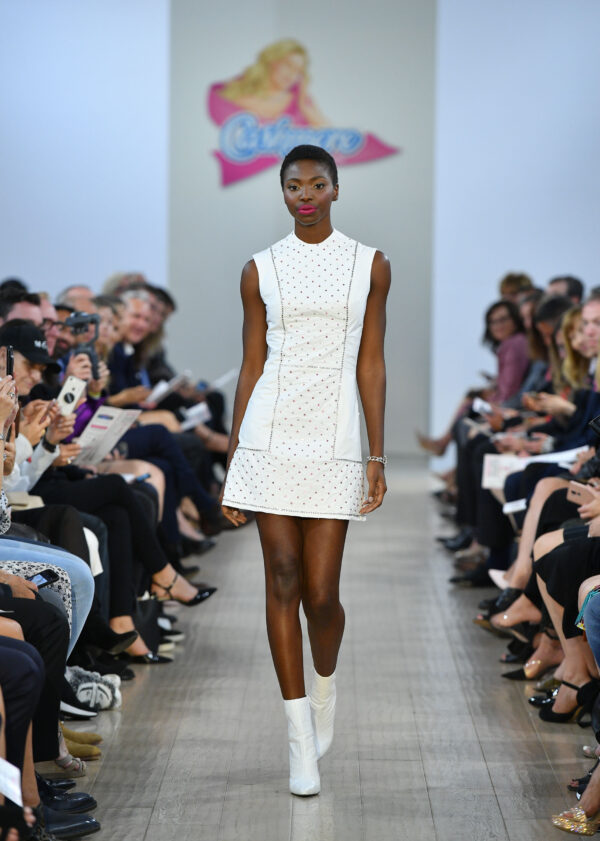 Joan Kelley Walker, a journalist, broadcaster, and former cast member of the Real Housewives of Toronto and now head of her own charitable fashion brand, said she was thrilled and honoured to know her work was included in the show. "Yes, there was a learning curve but I got better as the project progressed," she said. "There were times when you prayed the whole thing just wouldn't fall apart. A lot of the inspiration came from knowing the project would help so many women." Her muse was Canadian fashion legend Stephan Caras. She said just the feeling of wearing one of his designs was enough to start the creative juices. Her finished work called for some 250 handcrafted flowers for the bodice and a peek-a-boo skirt of decorated panels.
Lesley Hampton—with degrees in both art and fashion—was a natural choice for the show. Her work promotes body positivity, mental health awareness, and diversity. She also incorporates influences of her First Nation's heritage into a women's wear line that ranges from glamorous, show-stopping evening ensembles to snappy leisure wear. Hampton shares fashion legend Christian Siriano's dedication to creating clothes that flatter any and all body types.
Hence the nearly eight yards of Cashmere Bathroom Tissue that went into her dramatically full-skirted, one shoulder gown.
Fashioning all the delicate flowers that border each tier of the skirt consumed many of the 40 hours Hampton invested in her glamorous plus size creation.
Another highlight was the work of Sage Paul—a proud urban Dene woman and member of the English River First Nation.
Steeped in activism and artistry, this George Brown College graduate was the catalyst behind last year's first-ever Indigenous fashion week Toronto and designs a uniquely elegant women wear collection incorporating beading and leathers. Paul's contribution to the show was sparked by the vintage Thierry Mugler Venus dress which was ultimately inspired by the famous Botticelli painting.
Paul channelled the strength of a female goddess to craft an absolutely out of this world ensemble.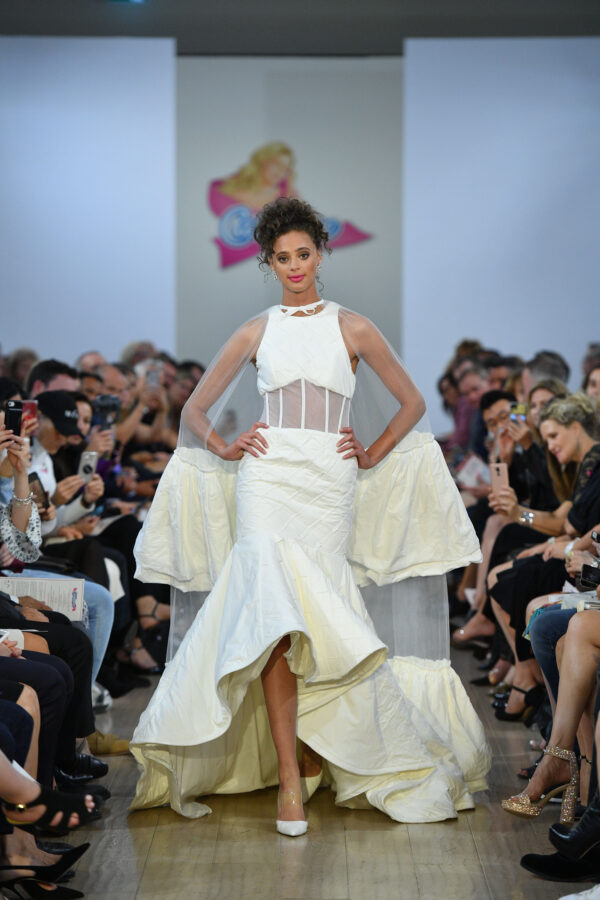 Canadian singer Bif Naked—herself a cancer survivor—was a special guest at the show performing some of her work dedicating it to those living with cancer as well as to the nurses and other medical staff that work with the thousands of Canadian patients.
"Hearing my diagnosis was devastating," said Bif. "As we sit here tonight there could be as many as 75 women diagnosed with cancer …. not all of them will survive." But she stressed the world should be optimistic as the survival rate increases every year.
Canadians are invited to help Cashmere to make a difference by taking part in the Vote Couture for the Cure Contest at Facebook.com/Cashmere throughout October.
Cashmere will donate $1 for every vote (to a maximum of $10,000) to the Canadian Cancer Society's breast cancer efforts in the winning designers name. Voters can return daily between September 26, 2019 and October 26, 2019 to be entered in a draw for the chance to win a shopping spree valued at $1,500.
The show's curator, Toronto native Joe Zee, told the crowd he was proud to be attached to the Cashmere show saying it was for a very important cause. "Everyone has been affected by this disease in one way or another,'' he said. "It may be a friend, it may be a family member it may be you," he said "But we are surrounded by hope … it lifts us up and this show is just one of the things that keep us going and ready for the challenge."
Kruger products is one of Canada's leading  tissue manufacturers and serves the Canadian consumer market with well-known brands such as Cashmere, Purex, Sponge Towels, and Scotties.
Kruger has supported the Canadian Breast Cancer Foundation—now known as the Canadian Cancer Society—since the collection debuted in 2004.
One in eight Canadian women are expected to be diagnosed with breast cancer in her lifetime and more than 80 percent of breast cancer occurs in women who are 50 and older.
Breast Cancer continues to be the most commonly diagnosed cancer and the second leading cause of cancer related deaths among Canadian women.
Paul Irish is a Toronto-based freelance journalist.