More than 500 mothers from across the country traveled home from downtown Tampa, Florida, on July 17, energized and eager to carry out conservative activism in their own counties.
After attending the three-day Joyful Warriors National Summit, members of Moms for Liberty renewed their mission: to stand against liberal and progressive policies creeping into schools and other institutions.
But they also carried away encouragement in their roles as mothers.
That boost, some said, came in the form of a glimpse into how Florida's first couple navigates life with three preschoolers in the governor's mansion.
Those details were revealed by Casey DeSantis, wife of Florida's Republican Gov. Ron DeSantis, during the first nationwide gathering of Moms for Liberty.
The Florida-based group drew popular conservative speakers to a conference center along the yacht-lined Hillsborough River.
While they dined on meals included in the $199 event tickets, moms—and some dads—listened to conservative politicos, including Gov. DeSantis, U.S. Sen. Rick Scott (R-Fla.), former U.S. Secretary of Education Betsy DeVos, and Dr. Ben Carson, who served as U.S. secretary of housing and urban development under then-President Donald Trump.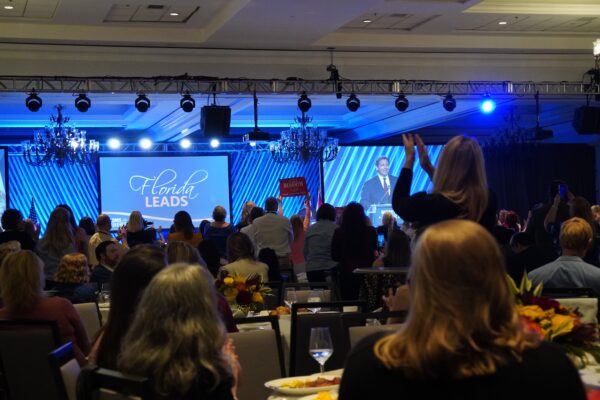 Speakers also included pundits well-known in Christian circles, including podcaster Allie Beth Stuckey, author and mathematician James Lindsay, and Alveda King, the activist niece of Martin Luther King Jr.
They cheered for Jeff Childers, a Florida attorney and COVID-19 blogger who has provided legal advice to the Moms for Liberty movement since before its official launch in 2021. They also applauded Rep. Joe Harding, the lawmaker responsible for Florida's "Parental Rights in Education bill," misleadingly labeled as the "Don't Say Gay" bill by opponents nationwide.
But the speaker who may have supercharged mothers most was the one who said the least—5-year-old Madison DeSantis, who had the last word during her mother's time on stage.
The oldest of the three DeSantis children sat on her mother, often sucking her thumb or tapping her mom's arm to signal that she wanted to whisper a comment.
Casey DeSantis gently reminded her little girl to sit properly, then allowed her to go play with a doll. Unfazed by the interruptions, the 42-year-old described the challenge of raising three small children in a home decorated with irreplaceable relics.
She also shared how her husband's inclusion of their children in his work doesn't always go as planned. She told of when their son, Mason, now 4, fell asleep on the floor next to the podium while the governor spoke.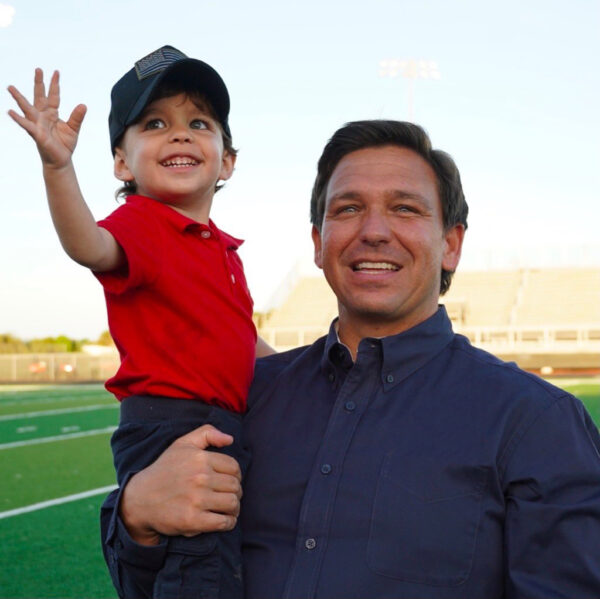 "You know there's going to be repercussions in the form of memes," she said with a grin.
The first lady's transparency and unashamed public parenting brought tears to the eyes of Sarah Hanganu, who runs a Moms for Liberty chapter in Dutchess County, New York.
"I loved it—I think we need to see more of that!" said Hanganu, who homeschools her 6-year-old daughter and 8-year-old son. "It shows they're parents, too, and they have skin in the game."
Hanganu appreciates how the Florida governor kept schools open across his state during the pandemic and banned the forced masking of children. She wishes the governor of her state would follow DeSantis's lead.
As the pandemic unfolded, DeSantis also vowed not to allow the forced vaccination of children for COVID-19, and he halted the quarantining of healthy schoolchildren after exposure to the virus. All these policy moves drew criticism from his political opponents.
"I can't wait to vote for him as president!" Hanganu said.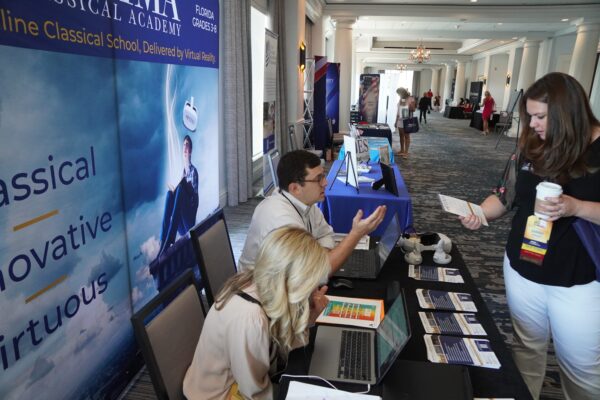 Midterm Election
DeSantis currently is running for reelection, and many political handicappers say he's likely to keep his job as Florida's top executive. That election is Nov. 8. His Democratic challengers will face off in a primary on Aug. 23.
The Sunshine State's governor challenges President Joe Biden's policies and often teams up with state Attorney General Ashley Moody, who also spoke at the conference, to initiate lawsuits challenging orders from the Biden administration.
DeSantis dismisses suggestions that he's considering a bid for president in 2024, although many professional politics watchers don't believe that. They expect DeSantis to embrace a campaign for president after November. Poll numbers show that his popularity is growing among Republicans across the country, even closing the gap on Trump.
The governor kicked off the Moms for Liberty conference as attendees ate breakfast. His wife's on-stage appearance, which had the tone of a chat with friends over coffee, began a few hours later during lunch.
The former newscaster started by confessing that she'd just come from a press conference across town about expanding the reach of her initiative HOPE Florida.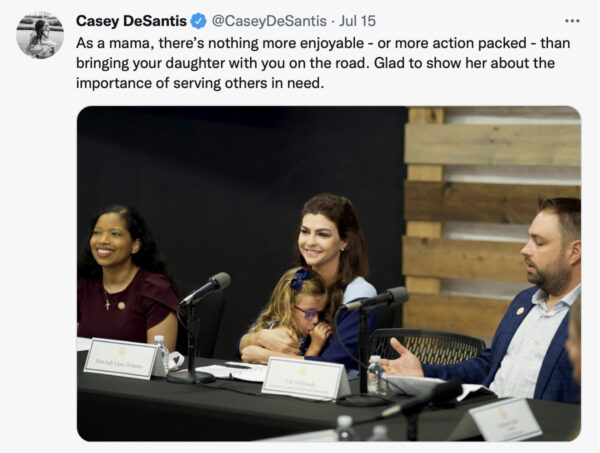 "Madison decided she wanted to sit on my lap during the entire thing, which was enjoyable," Casey DeSantis said with mock sarcasm, as fellow mothers in the room laughed in commiseration. "All of my notes [were] in front of me. She took a Sharpie on all of my notes, then she started coloring on me, which was enjoyable."
She described how their other daughter, 2-year-old Mamie, has helped them discover that Magic Erasers can, indeed, remove crayon marks from early-19th-century French wallpaper, which adorns the state dining room in the mansion.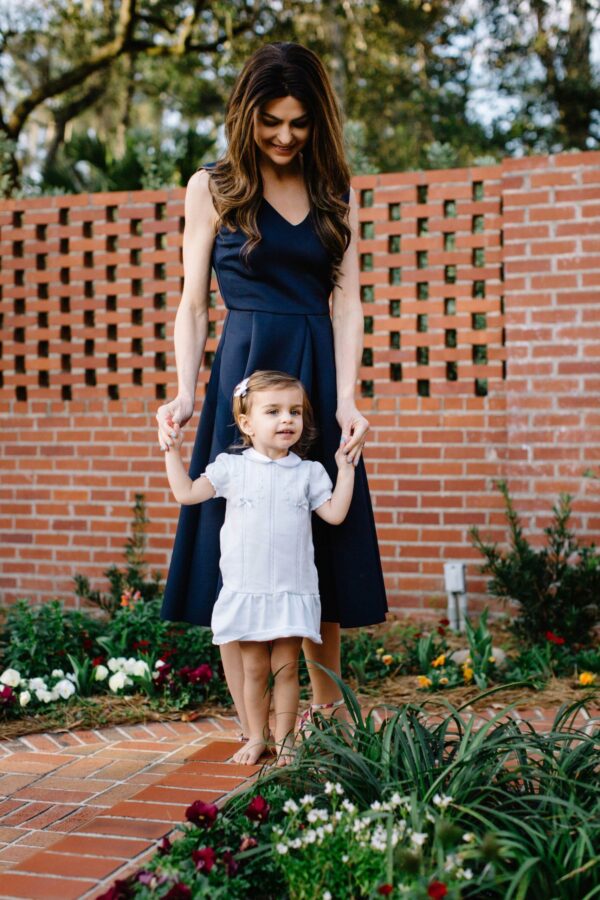 "We have learned that slime—Madison, right?—you have to get it out of Oriental rugs quickly," she confessed.
"If you want to know who runs the joint, it's this one," she said, calling her eldest "the mayor of the Mansion."
All governors leave something special behind when they finish their term and move out, she said. She and her husband are doing their best "not to be destroying the place" and to "be good stewards," she said.
But she imagines there will be evidence that her children have "left their mark." And those areas might be pointed out in future public tours of the residence years from now, she said with a chuckle.
Although she's working on discouraging the youngsters from leaping off the furniture, the thuds from their jubilant landings often result in calls from security officers based in an office below the residence.
The other moms responded with guffaws as she described her frequent assurances to officers' calls that a rapid tactical response to the noise wasn't necessary.
The children's antics involving law enforcement don't stop there.
They have learned, she said, to operate the mansion's elevator, and sometimes descend into the security office for a visit. They've also discovered how to operate a radio there that broadcasts to the entire force, belting out their rendition of the song "I'm Still Standing" from the animated movie "Sing."
First Lady's Cancer Diagnosis Initiative
DeSantis spoke about her initiatives as first lady, including a new push to speed up the process to get imaging for breast cancer diagnoses. That came out of her cancer battle that began in October 2021. The governor announced in February that she's now "cancer-free."
"I know a lot of people in this room were praying for me," she said. "I can't tell you what that does in your spirit."
She had to push to get the imaging that eventually revealed her cancer, she said. She urged the women in the room to become their own health advocates.
She urged the women to support her husband's reelection campaign, describing him as an example of the American dream. She spoke of his "humble beginnings" in the small mid-Florida town of Dunedin, where his parents still live in the same 1,800-square-foot house.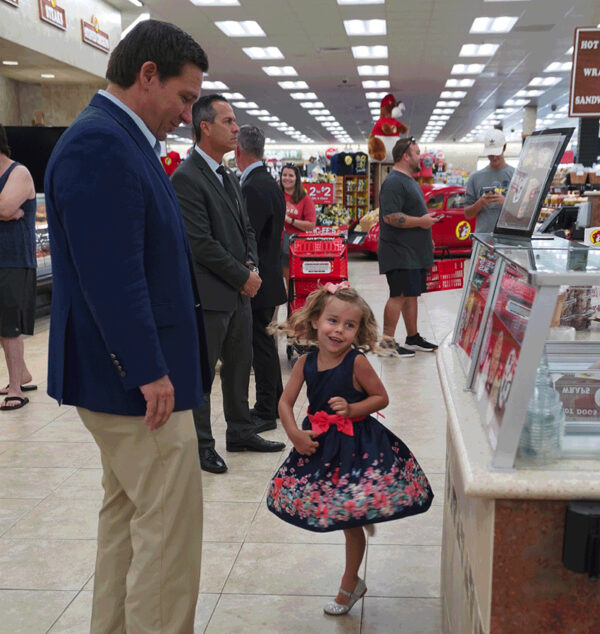 She talked about how baseball scholarships allowed DeSantis to earn a law degree, starting at Yale and then Harvard. And she said he then decided to join the military, "because it was the right thing to do and he wanted to give back."
She noted that he earned a Bronze Star for service in Iraq and Guantanamo Bay, finishing his career with the U.S. Navy as a JAG officer.
She touted his record as governor of the third-most populous U.S. state, overseeing "the 13th largest economy in the world," and warned that Florida would have been very different to live in had he not eked out a win in 2018, besting Democratic candidate Andrew Gillum by just 32,000 votes.
In November, "we need to win a slam-dunk election," she told the crowd, asking them to sign on with Mamas for DeSantis.
Analysts have said that DeSantis will need to win by a significant margin if he does plan to try to take the White House.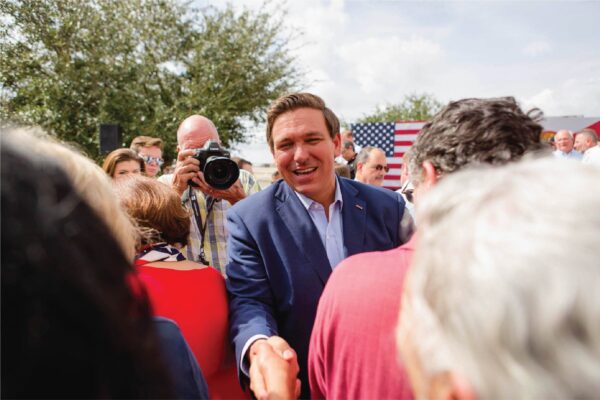 In June, Casey DeSantis launched the Mamas movement that aims to harness the power of a million Florida mothers and grandmothers to help with her husband's reelection campaign.
"When you want to get something done," she said, "you go to a mama."
To conclude her appearance, she offered the microphone to her daughter, asking if she would like to "thank everyone for working so hard."
Madison DeSantis took the mic and demurely said, "Thank you." The room erupted in cheers.