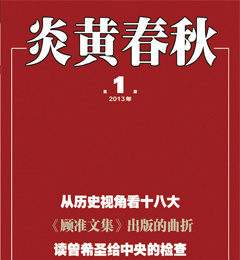 Months before he took the reigns of the Chinese Communist Party, commentators wondered what kind of leader Xi Jinping would be.
Two recent instances of hamfisted censorship—the most prominent of an influential newspaper in the country's south—and the resultant backlash, is becoming something of a test of that question.
In a Dec. 4 political meeting, Party leader Xi said: "A country ruled by law should be first ruled by the constitution, and lawful governance should be based on the constitution."
Then, just after the new year, two influential liberal publications, Southern Weekend, a pioneering newspaper based in Guangdong, and Yanhuang Chunqiu, an intellectual journal in Beijing, published special editorials echoing Xi's call for lawful governance based on the constitution. But both of them were harshly censored. 
It's still unclear whether the orders to crack down on the publications came from Xi Jinping, or are the result of other forces in the regime with handles on the propaganda organs, using tried-and-true methods of media control.
Constitution Talk Shut Down
Yanhuang Chunqiu, an influential magazine in Beijing backed by retired high-level Party officials, had printed a New Year's editorial titled, "The constitution is the consensus of political system reform." It said that "China's current system does not meet the spirit of the constitution" and "after 30 years of reforms, it is evident that political reform has significantly lagged behind economic reform." 
It continued that "Advocating political reform is an urgent task." 
On the morning of Jan. 4, the magazine's website was shut down. According to editor-in-chief Wu Si, speaking to independent broadcaster New Tang Dynasty (NTD) Television, they were told that they were taken offline because they had switched Internet service providers two years ago, without telling the authorities. 
"However, we didn't switch to a new service provider two years ago, so why the website was shut down was still a mystery to us," Wu Si said. 
Later, the journal posted to its Weibo account that the website would be restored in due course.
Ye Yinzhi, a prominent Internet personality in China, blogged that the fact that Yanhuang was "gunned down" after the new Party leader took office shows that "the waters of Zhongnanhai are very deep, and the road to freedom is a long one."
Newspaper Censored
In the case of Southern Weekend, its special editorial was altered in secret by provincial propaganda chief Tuo Zhen. According to photographs posted to the social networking service Weibo, its original New Year's greeting was "China's dream, the dream of constitutionalism." 
Tuo Zhen changed it to the insipid: "We have become closer than ever to our dream." The dream in question wasn't explained. Tuo Zhen also introduced a series of other embarrassing historical errors, according to analyses of his revamped editorial that circulated online.
Following the censorship, journalists from the newspaper went on strike, took photographs of themselves holding slogans defying the authorities, and expressed their frustration with propaganda authorities on the Internet.
Hundreds of Chinese also turned up at the newspaper's offices on Monday, laying flowers and expressing solidarity with the journalists.
In response to questions from foreign journalists about the Southern Weekend case, China's Foreign Ministry spokeswoman Hua Chunying said on Jan. 4 that China upholds press freedom and "there is no so-called news censorship in China."
The Central Propaganda Department showed otherwise, though, on Jan. 3 issuing an urgent notice instructing reporters and editors to not discuss the New Year's greeting controversies on public platforms.  
As the issue continued to percolate, the propaganda officials handed down to media across the land three instructions on Jan. 7: "It is an unbreakable basic principle for the Party to govern the media; Tuo Zhen has nothing to do with changes made to Southern Weekend's New Year's editorial; the incident involved hostile foreign force."
Which Dream?
While addressing a national meeting on propagandas work on Jan. 4, the former chief of the Propaganda Department, and member of the Politburo Standing Committee, Liu Yunshan sang praise for "the China dream" – but he made no mention of Xi Jinping's "dream of constitutionalism."
Liu ordered the officials present to have "an appropriate stance, a clear viewpoint and a firm attitude in publicizing the Party's basic political policies and important principles," according to state reports.
In a conference held by the Party committee that oversees the security forces on Jan. 7, Xi urged those present to "respond to public aspirations of social security, judicial justice and protection of rights and interests" and "make all-out efforts to build a peaceful China which is governed by law." 
Liu was openly going against Xi, according the head of Yanhuang Chunqiu Du Daozhen. "Xi advocates lawful governance based on the constitution, whereas Liu advocates the exact opposite," Du told Sound of Hope radio. 
Since Xi Jinping escalated his anti-corruption measures, he has met with opposition, including the implementation of a "real-name registration system" on the Internet, the shutdown of Yanhuang's website, and the Southern Weekend censorship, according to Chinese columnist and political affairs commentator Lin Zixu. "This shows vested interests in the Party are suppressing Xi's call for reform," Lin told Sound of Hope. 
A Test of Xi's Reform Talk
The Southern Weekend censorship incident was carried out in classic Party style, according to political commentator Xing Tiangxing, also speaking to Sound of Hope radio.
"Although Xi and new premier Li Keqiang are trying to push for reforms, the propaganda department just wants to kill those ideas," Xing told the station. 
Lin Zixu, the commentator, said that political reform and a serious anti-corruption campaign just won't work in China. "Hard-liners in the Party would never go along with it. It's impossible to introduce new changes to the Party."
Huang Zhongqing, a director of the Beijing branch of the South China Morning Post, said in an interview with BBC Chinese that the way authorities handle these two incidents will be the test of whether the Xi Jinping regime is really serious about implementing reform, and on top of that, whether they are able to actually carry it out. 
"If they are sincere about political reform, the central government should follow legal proceedings," he said. That would mean punishing the propaganda officials that shut down Yanhuang's website, and censored Southern Weekend, he said—acts that the Party has never been known to do.
The Epoch Times publishes in 35 countries and in 20 languages. Subscribe to our e-newsletter.