Within several hours, visitors at a car auction in Qingdao, eastern China, bought up 150 Jeep Grand Cherokees and Jeep Wrangler Rubicons, the state-run Beijing News reported on Feb. 29. The imported vehicles were being sold at nearly half their normal market prices.
The problem is that the cars were also at the scene of the massive kiloton-scale chemical explosions that shook the 8-million-strong port city of Tianjin last August and killed hundreds of people.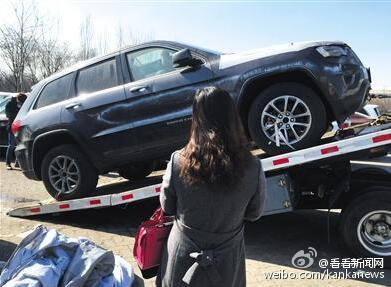 Vehicles damaged in the explosions eventually started trickling into the market by way of insurance company auctions. But though sold at cheap prices, the cars are no longer covered by any warranty and cannot be legally licensed.
Staff at a Beijing insurance company told Beijing News that while the cars have been refurbished and may appear superficially little different from undamaged vehicles, they may contain hidden hazards for their occupants—increased risk of spontaneous combustion and abnormal computer control, for starters.
Of the 3435 severely damaged vehicles present at the site of the Tianjin disaster, 2114 were destroyed with the assistance of the municipal authorities, Chrysler (China) said in a statement last December. The fate of the remaining thousand-plus vehicles was not elaborated upon beyond the words "to be handled in accordingly."  
A bidder at the auction in Qingdao, told Beijing News that over 1,000 Chrysler Jeeps may have been put on resale by insurance companies.
The owner of a second-hand auto dealership said that two or three thousand vehicles from the Tianjin blast are currently in the market. Sellers can use their personal relationships to get the cars licensed, then put them up for sale. Another method is to refurbish the car, then resell it in a tax-free area after memory of the disaster has faded.