Singer Carrie Underwood revealed the gender of her baby at the Country Music Awards on the evening of Nov. 14.
The pregnant 35-year-old, who was awarded Female Vocalist of the Year, was pressured into spilling the beans by co-host Brad Paisley.
"Seriously Carrie, give me a little baby hint," Paisley asked the reluctant Underwood. "Johnny or June? Keith or Nicole? … Waylon or Willie?"
Eventually, Underwood was forced to say, "OMG, Willie. It's a Willie."
The baby will be Underwood's second, joining her 3-year-old son Isaiah.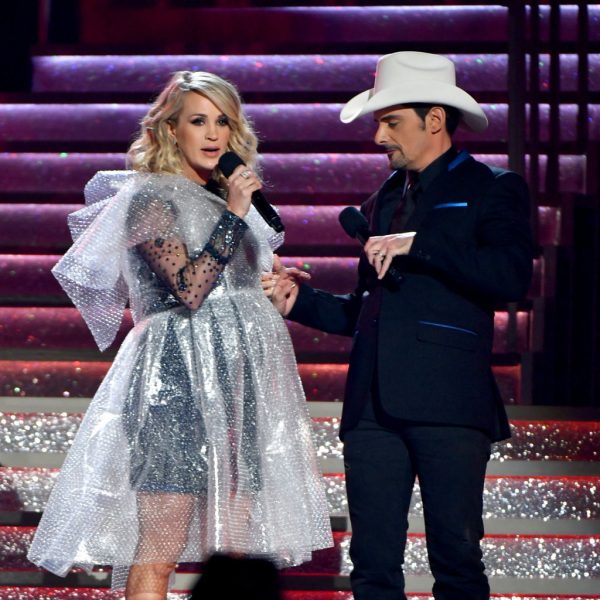 The hilarious segment was a follow-up to the 2014 CMAs, which Underwood and Paisley also hosted. Underwood was pregnant with Isaiah at the time.
"Hey, remember last time when I accidentally revealed the gender of your baby?" Paisley joked.
Underwood and Paisley later confessed that the gender reveal had been secretly planned all along.
iHeartRadio has predicted that the new baby will come around the beginning of February 2019.
Underwood's last album "Cry Pretty" was released in September, and she intends to start her tour in 2019, presumably after the new baby is born.
'Over the Moon'
Underwood first revealed she was pregnant with husband Mike Fisher in August.
"Mike and Isaiah and I are absolutely over the moon and excited to be adding another little fish to our pond," Underwood said at the time.
She has previously said son Isaiah is the "sweetest thing" and that she feels blessed with an incredible husband, job, and friends.
However, 2017 was a tough year for Underwood. She had two miscarriages, then she fell outside her home onto her face in November. She had to get more than 40 stitches and also broke her wrist, leading to an extended period of time out of the spotlight.
Fans were supportive of the singer, with one writing on Instagram at the time, "You are a beautiful soul inside and out. I'm sending you an abundance of healing vibes, strength, love and light your way! You are so brave for coming forward!"
In early 2018, she had another miscarriage. Finally, when she became pregnant once again, she thought she was having a fourth miscarriage.
"I got mad," Underwood said in an interview in September with CBS.
She said she began to pray to God in a way she had never done before, and she was honest about her feelings.
"He heard me," Underwood said.
Her doctor soon confirmed that her baby was healthy and the pregnancy was going well. She announced the news on Aug. 8.