Carrie Fisher: Trainer Will Help Her Get Into Shape for New Star Wars Movie
April 30, 2013 4:26 pm Last Updated: July 18, 2015 5:20 pm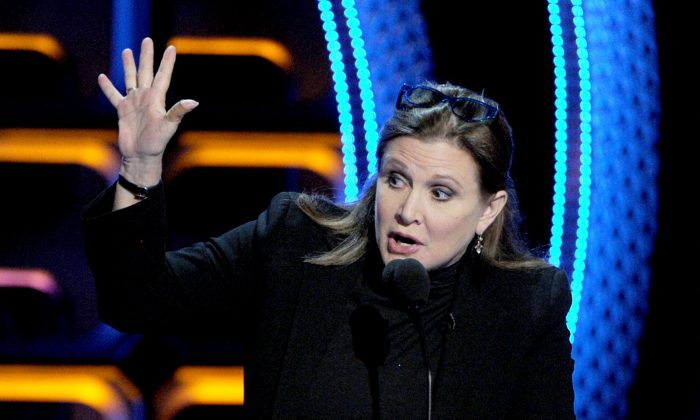 Carrie Fisher: The 56-year old actress and writer told audience members at the Calgary Comic and Entertainment Expo that a trainer is helping her get into shape to play Princess Leah again in the new Star Wars movie.
Disney purchased the StarWars franchise from LucasFilms later last year and are reportedly planning a new Star Wars movie every two to three years, starting in 2015 with Star Wars VII.
"I'm glad they are doing a new movie because they are sending a trainer to my house so I can get in really good shape," said Fisher, according to the Calgary Herald. "So I'm really eating a lot of sugar in advance, as you can see. By the time I really get down to it I will have eaten everything."
Fisher was the renowned top actress in the Star Wars movies, with her Princess Leah almost as fearless as Luke Skywalker. 
This is not the first time Fisher has discussed the reprise.
She told the Palm Beach Illustrated earlier this year that Princess Leia is "just like she was before, only slower and less inclined to be up for the big battle."
Fisher has since the Star Wars series ended acted in a variety of roles, such as voicing a character on "Family Guy" and appearing in an episode of "Entourage." 
Harrison Ford, Anthony Daniels, and Mark Hamill, who played Hans Solo, C-3PO and Luke Skywalker in the original Star Wars movies, are rumored to be in the upcoming movies. J.J. Abrams is directing at least the first movie out, episode VII.