James Corden navigated the streets of New York City with Broadway elite for the June 6 airing of Carpool Karaoke on "The Late Late Show With James Corden."
The clip begins with Corden thanking "Hamilton" creator Lin-Manuel Miranda for his directional assistance as he drives in new territory—Corden usually films the popular segment in Los Angeles—towards the Upper West Side.
"Thank you so much for helping me get to the Beacon Theater," says Corden. "I just don't know my way around New York at all."
"It's my pleasure," says Miranda. "I'm at your service, sir."
As the two venture towards the Theater, Corden and Miranda belt out tunes from the hit Broadway musical, "Hamilton." The two discusses the nerves surrounding this year's Tony Awards. Miranda and the cast of "Hamilton" received a record-breaking 16 nominations.
Related Coverage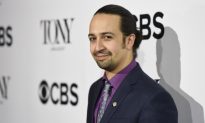 Lin-Manuel Miranda To Leave Broadway Hit 'Hamilton'
"Hamilton is selling fine, I don't feel that kind of pressure," shares Miranda when asked about feeling nervous. "With this it's just like 'oh we get to be in the same building as all our friends from all the other shows.' That's the great thing about Broadway is we all work within the same eight blocks."
While en route, the pair encounters other Broadway stars—Jane Krakowski, Audra McDonald and Jesse Tyler Ferguson. The quintet then begin to sing "Seasons Of Love" from the musical "Rent."
Corden who is hosting the 70th annual Tony Awards on June 12 sought hosting advice from the group of stars. This is Corden's first time hosting the ceremony.
"They want to have a great time," 45-year-old McDonald tells him. "It's a long evening, so just have fun. That's what they want more than anything—belt out a few show tunes."
Ferguson adds, "It's the nicest audience you could ever perform for."
They then perform "Take My Eyes Off Of You" from the "Jersey Boys" and close out the segment with a "One Day More" from "Les Miserables."
Tune in June 12 for the 70th Annual Tony Awards. Check your local listings.