Caroline Wozniacki Instagram, Twitter, Photos; Says Her Split From Rory McIlroy Is 'Hard' (+Photos)
May 22, 2014 2:01 pm Last Updated: June 24, 2015 8:05 pm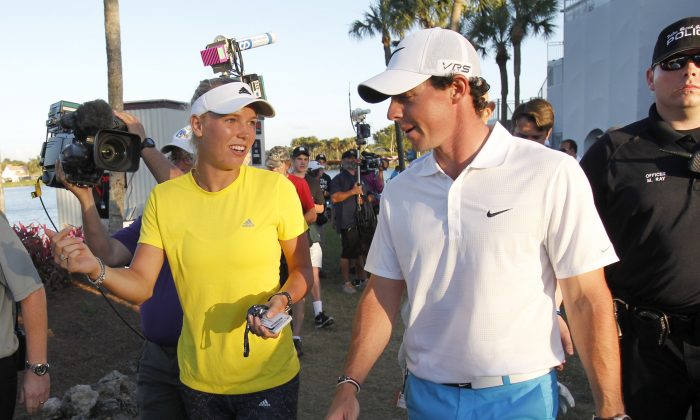 The professional tennis player, who recently split from long-time boyfriend and fiancé, golf player Rory McIlroy, has finally made a comment via social media about the break-up. 
"It's a hard time for me right now. Thanks for all the sweet messages! Happy I support Liverpool right now because I know I'll never walk alone," she wrote on May 22, 2014 on her Twitter page. 
Just on May 13 she was out on date with McIlroy watching "The Bodyguard" musical, then tweeting a picture of two hot drinks (one with significantly more whipping cream) with the caption: "I guess in our relationship there is one kid and one adult @McIlroyRory btw I'm the kid," she wrote. 
On May 18, McIlroy himself tweeted an ambient photo of a seaside view from a restaurant window with the message: "Nice view for dinner with @CaroWozniacki at Nobu Monte Carlo."
The two got engaged on New Year's Day 2014, but have been dating for over two years. McIlroy, 25, and Wozniacki, 23, were going to marry at the Rockerfeller Center in New York on November 8, 2014, according to the Daily Mail. 
The couple send out wedding invitations just days prior to McIlroy making a public statement that they officially split. 
'The problem is all mine," McIlroy told the room full of press just hours before the PGA Championship in Surrey. The golfer said he wasn't prepared for all that marriage entails and that the split was mutual and amicable. 
'There is never a good time to end a relationship, I guess. I made a commitment to be here and I thought my duty was to play in this event. Obviously (it's) quite a difficult time for Caroline and myself," McIlroy said, according to Daily mail.