CARMEL VALLEY, Calif.—A blue tent was set up next to the Chevron gas station on West Carmel Valley Road on Aug. 26. "Welcome Back. Complimentary comfort kits available here," read a large sign beside it.
The comfort kits, consisting of disposable gloves, surgical masks, hand sanitizer, and water, were neatly presented on the tables.
Starting Aug. 24, Carmel Valley Village residents were able to return home after having evacuated during the Carmel Fire. Upon arrival, they were welcomed with essentials and community support.
"It's customary that when we have evacuees for any type of traumatic event or a natural disaster that we have a re-entry pod," Debra Wilson, Monterey County deputy section chief of logistics, told The Epoch Times. "We supported them when they left, and we're supporting them as they come back."
The Chevron pod was set up Aug. 24–Aug. As cars pulled up to it full of returning residents, Wilson waved at them. Volunteers handed out the comfort kits. Another pod was set up near Tassajara Road.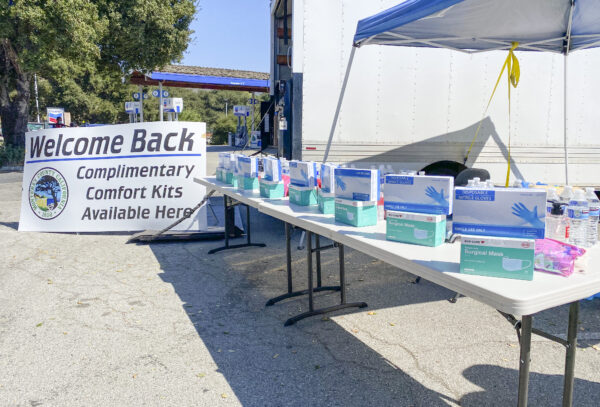 Alondra Klemek, a Carmel Valley resident whose husband is a firefighter, stopped by the pod to get some supplies she could distribute to others who had requested them. She is one of the many people in the close-knit community trying to help in their own way.
On Aug. 21, Klemek was evacuated, while in the middle of preparing meals for evacuees. 
"So we had to run home and get our pets, but still be putting on these meals," Klemek told The Epoch Times. "There's a saying that 'it takes a village,' and we are an amazing village. This village takes care of its own."
Since the beginning of the evacuations, Klemek and other locals have made meals and brought them to dozens of evacuees. Aug. 25 was the final night for making evacuee meals. They continued making hot meals for firefighters.
The Carmel Fire and nearby River Fire were close to 95 percent contained as of Aug. 31. 
With reporting by Nancy Han.