Carlos Danger, Miami Doctor, Won't Talk to Media
July 25, 2013 11:19 am Last Updated: July 18, 2015 5:19 pm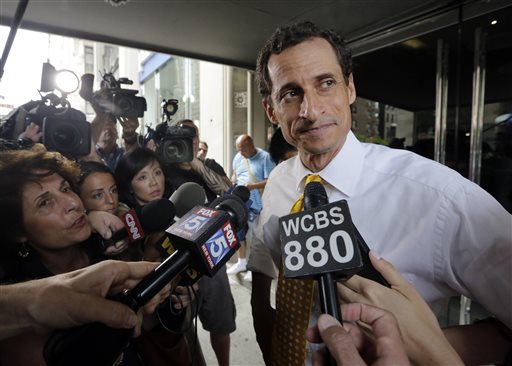 Carlos Danger, the online name purportedly used by New York City mayoral hopeful Anthony, is a name also shared by an apparently real person–a psychiatrist in Miami, according to reports.
The Miami New Times reported that Dr. Carlos R. Danger lives in Miami and has a practice, but he would not talk to the media about the Weiner scandal.
"The real Dr. Danger — who hopefully at least considered a career building giant, evil laser devices in a hollowed-out mountain somewhere before settling on psychiatry — operates a Coral Gables clinic called Innova Clinical Trials," Times writter Tim Elfrink quipped.
Danger graduated from the University of Miami in 2001 but did not return any phone calls, according to the Times.
There is also a person named Charlie Danger, who is head of the Miami-Dade County's Building Department. However, he did not respond to inquiries from the Times.
Weiner used the name to engage in explicit conversations with a 22-year-old woman. The latest scandal revelation was made on Tuesday when webiste The Dirty posted chat logs and photos of the two.
Weiner, a former member of Congress, acknowledged some of the claims, but stressed that he would not drop out of the New York City mayoral race.
He sent an e-mail to his supporters on Wednesday, saying "I'll never quit on you."
"It was a terrible mistake that I unfortunately returned to during a rough time in our marriage," he wrote. "After a lot of reflection, some professional help, and a general reorientation of my life, Huma has given me a second chance. I will never stop being grateful for that."