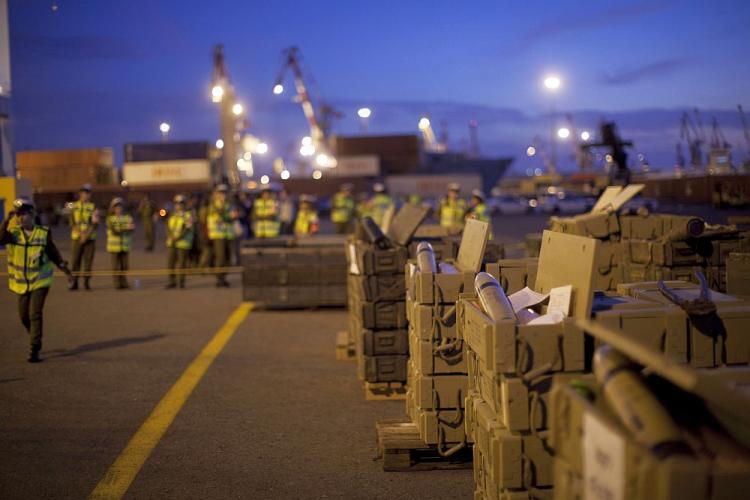 Israeli naval forces intercepted a cargo ship en route to Syria from Iran on Nov. 3, according to the Israeli Defense Force (IDF). The ship was intercepted 100 miles off the Israeli coast, bearing the flag of Antigua and carrying weapons disguised under the cover of a vessel that appeared to be civilian.
According to the non-profit organization The Israel Project, the cargo ship carried tons of advanced weaponry and missiles, including Katyusha rockets, assault rifles, mortar shells, grenades, and anti-aircraft platforms. They added that it was slated to be delivered to the Iran-backed terrorist group Hezbollah.
The weapons cache was discovered when a special Israeli naval force detained and boarded the merchant ship.
IDF forces and the Israel Navy conduct routine intensive security operations to combat terrorists and prevent arms smuggling; Tuesday's seizure was carried out as part of this.
The largest ship ever intercepted by Israeli Navy forces was the Karine A vessel in 2002. The vessel carried tons of weapons from Iran and was intended for the Gaza Strip.
"The actions of Iran and Syria contradict all international law," said Israeli President Shimon Peres in a press release published on the IDF website. "Both Iran and Syria are continuously arming the terrorist organizations, first and foremost Hezbollah and Hamas, and are clearly working to undermine peace in the Middle East. The interception of the arms ship is of the highest importance in military terms, but also has political importance. No one can argue with facts."
Also on Tuesday, Israeli military intelligence said that Hamas successfully tested a rocket with a range of up to 37 miles, putting Israel's second largest city of Tel Aviv within firing range.
Since 2001, several ships with weapons have been seized by Israel's Navy. Last month, The Hansa India, en route from Iran and flying a German flag, was due to unload eight containers in Egypt. After being warned by German authorities that the vessel was not unloaded and had continued to Malta, it was seized. The ship carried bullets and industrial material intended for weapons production. According to the IDF it was bound for Syria.