A foodbank in Cardiff is kindly reminding people to check the use-by date on any donated food items after it received a 46-year-old tin of Heinz soup.
The tin even had a price sticker of 10d—or 10 pennies—the currency used before decimalisation in 1971. "It's a record!!" the Cardiff Foodbank wrote in a tweet. "Never had a donation to @CardiffFoodbank with 10d on before!"
It's a record!! Never had a donation with 10d on before! Please could we remind everyone that food donated needs to be in date! Thank you 🙂 pic.twitter.com/EVf5qMulA6

— Cardiff Foodbank (@CardiffFoodbank) October 5, 2017
In a later tweet, the foodbank remarked that people are very generous, but that they haven't always checked the dates when clearing out cupboards.
It seems that the mystery donor made just that oversight.
The foodbank tagged @HeinzUK in its tweet, to which Heinz replied, "Wow! That soup was discontinued over 35 years ago. Should be in a museum rather than a food bank! :)"
Helen Bull, the partnership and fundraising officer at Cardiff Foodbank, said that a can of sweetcorn from 1982 was also donated to the charity.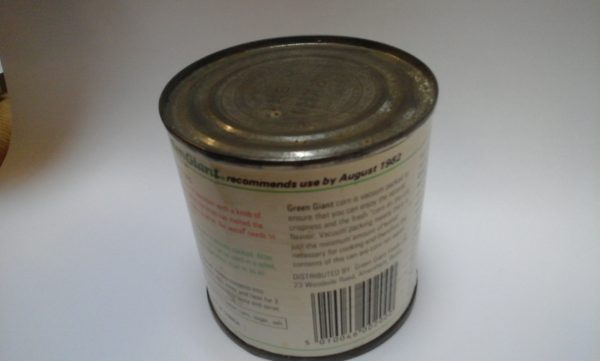 "Probably what's happened is that it is harvest time and lots of people clean out their cupboards and donate items that they have never used and don't really look at them," she said, according to Sky News. "Unfortunately what sometimes happens is that when an older person dies the family will clean out the cupboards and they want to donate and don't necessarily realise that it was out of date."
35 year-old tin of sweetcorn donated to foodbank; they decide to open it (via @cardifffoodbank) pic.twitter.com/W6aikQDsRS

— Julian Druker (@Julian5News) October 6, 2017

It's not the first time that generous souls have donated food that's well past its use-by date. Earlier this month, Colchester Foodbank in Essex received a 40-year-old pack of macaroni pasta.
The manager, Michael Beckett, called it "an interesting discovery" according to the Gazette News.
"We have received quite old items before which were from the '80s, but this pasta is the oldest we have had," he said.
Please check the #BestBefore date!
We can't use OUT OF DATE food.
Today's #Pasta & #Mash #donation 40 years too #old!
#Colchester #foodbank pic.twitter.com/TUVLCQKolO

— Colchester Foodbank (@colchfbank) October 2, 2017
He told the Gazette News that the foodbank often receives food that is past its use-by date, but usually only by a few days.
"We were thinking 'wow,' this is the oldest thing we have ever come across… Forty years is quite a long time and it is the biggest example we have of people giving us out-of-date food."