When Florida police arrested a car theft suspect, they were shocked to discover a monkey clinging to the man's pink polo shirt.
Pasco County Sheriff's Office deputies arrested Cody Blake Hession on Friday after he allegedly drove a stolen car into a ditch, according to WTVD TV. Unexpectedly, they discovered a capuchin monkey clutching the man's shirt, and not letting go.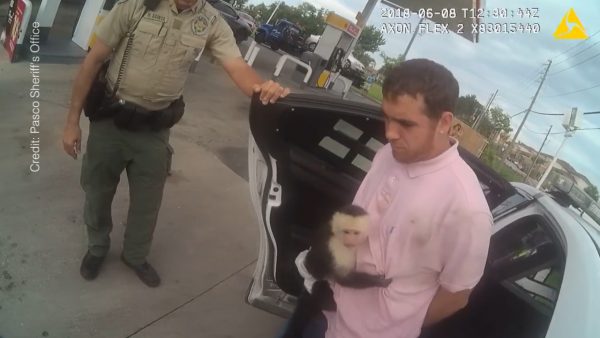 In police bodycam video released by the Pasco Sheriff's Office, Hession can be heard telling officers that he's had the monkey–named Monk– for three years, since the monkey was 3 days old. He said he got it from a South Carolina breeder.
Hession, 23, of Holly Hill, also told officers there was no licensing or permitting required in that state. But since he didn't have an exotic animal permit for the monkey, the Florida Fish and Wildlife Conservation Commission took the animal into custody, according to the Tampa Bay Times.
Monk was to be taken to a nearby primate sanctuary.
The Pasco Sheriff's Office posted the bodycam footage of the incident on June 8, with the following caption:
"The deputy allows the suspect to say good-bye to the monkey before being handed over to FWC. The monkey gives him a hug."
The post goes on to say that what arresting deputies "didn't expect was the capuchin monkey he had with him. FWC took possession of the monkey and transported it to the Suncoast Primate Sanctuary as Hession did not have a permit for the animal."
"We routinely receive questions about animals after arrests and felt this an opportunity to highlight our partnership with FWC," the post said.
According to reports, Hession has been charged with auto theft, a felony. At the time of reporting he remained in custody on a $5,000 bond.
Police said Hession could face additional charges for not having the exotic animal permit.
Watch Next:
Cookie-Crazed Squirrel Attacks New York Policeman