Capitol Police Chief Yogananda Pittman said the U.S. Capitol needs a permanent wall to protect Congress members in the wake of the riots on Jan. 6.
"As I noted earlier this week, even before September 11, 2001, security experts argued that more needed to be done to protect the U.S. Capitol," Pittman said in a statement. "In fact, a 2006 security assessment specifically recommended the installation of a permanent perimeter fence around the Capitol."
"In light of recent events, I can unequivocally say that vast improvements to the physical security infrastructure must be made to include permanent fencing, and the availability of ready, back-up forces in close proximity to the Capitol," Pittman continued.
Since around Jan. 6, fencing with barbed wire has been present around the Capitol for several weeks. It was left there due to Inauguration Day.
Thousands of National Guard troops were also deployed, and, according to officials this week, they will remain there until mid-March.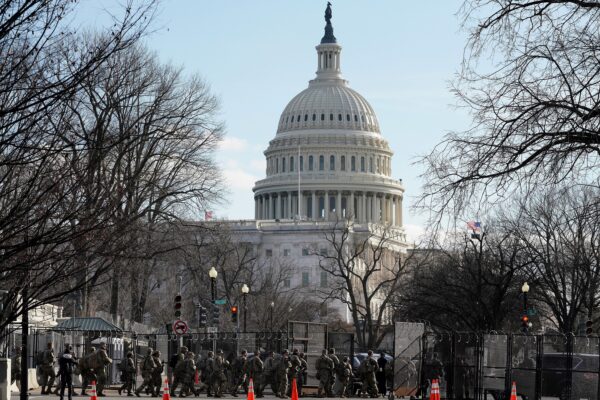 But D.C. Mayor Muriel Bowser on Thursday pushed back against the idea of keeping a permanent fence around the Capitol.
"Based on conversations with federal partners, there are some potentially volatile events upcoming that will require extra security. Fencing and the presence of troops will be a part of that. But we will not accept extra troops or permanent fencing as a long-term fixture in DC," Bowser said on Thursday afternoon.
The Democrat mayor said that the fencing will indeed come down "when the time is right."
"The fencing around the White House and U.S. Capitol, just like the plywood we've seen on our businesses for too long, will be taken down," Bowser asserted.
Some Republican lawmakers have suggested that the National Guard members should be sent home, or at the very least, a briefing is required.
"The Guard has endured unprecedented stress on the force in the past year given COVID-19, social unrest, natural disasters and ongoing overseas requirements. The National Guard should be used as an option of absolute last resort," a group of 11 GOP lawmakers wrote to the U.S. Army acting Army Secretary John Whitley. "We are seeking clarification and justification on behalf of the National Guard men and women that have kept us safe over the past month and year."
Sen. Tom Cotton (R-Ark.), a U.S. Army veteran, argued this week they should be sent home.