Cannery Park a Peach of a Community
Rare Niagara-on-the-Lake homes come with natural wonders in backyard
July 19, 2013 8:39 pm Last Updated: July 19, 2013 8:39 pm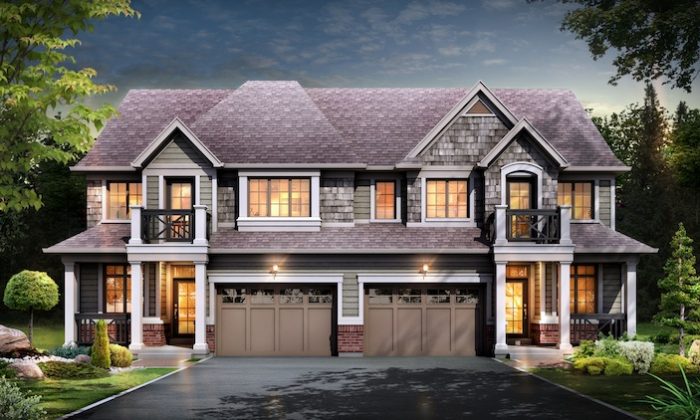 Building a subdivision in an historic community like Niagara-on-the-Lake is a rare occurrence. The community is steeped in history, with many historic sites and heritage buildings. Wouldn't new development spoil "Canada's Prettiest Town?" 
Known for its exclusivity, Niagara-on-the-Lake's wineries and multi-million dollar homes means price has been a barrier for potential home buyers. The Region's importance as an agricultural green belt means surrounding land is protected by law.
You may be wondering why the local government approved a subdivision like Cannery Park in such an ecologically and historically significant region.
The bottom line is, the housing is needed, especially for families who require proximity to the town's few existing schools. Families in the area are looking for more affordable houses than the quaint heritage-style homes available in town.
Cannery Park is not a name selected by a clever marketing firm. The site was once home to Canada's last surviving Cannery. The fruit canning industry has since moved overseas.
Cannery Park is nestled in a green patchwork of vineyards and golf courses, and is flanked by the Niagara Escarpment. The Escarpment is a natural wonder, in essence the massive shore of a pre-historic sea that is now a towering rock ridge. It is not only beautiful and unusual, but also contains over 100 sites of geological significance in Ontario alone, and is a UNESCO designated biosphere.
It's quite a backyard.
Add to that the non-stop cultural life including the Shaw Festival, Niagara Falls and it's glitzy wonder, and reasonable proximity to both Toronto and the US. The location allows for needed pastoral relaxation, with easy access to urban action when desired.
Niagara-on-the-Lake has been seen as a retirement community or vacation community, but in Cannery Park families can find a place that suits their needs.
Locals are attracted by nearby schools, which is one of the best in the area I'm told. 
"We've had a lot of interest from the GTA," said Natasha Choy, director of sales and marketing at Solmar Development Corp. This project is one of several Solmar is building around Ontario.
According to Choy, there are many interested Torontonians who are looking to raise families in a more relaxed environment or are buying second properties in Cannery Park where they will eventually move upon retirement.
If you're reading this in print you live in the GTA, so you know why leaving seems attractive, especially since Niagara weather is considerably warmer in the winter and cooler in the summer. During the flooding earlier this month in Toronto, Niagara-on-the-Lake was enjoying sunshine for example. Sorry for rubbing it in.
The homes range from 1127 sq. ft. semi-detached to detached 2255 sq. ft. four bedroom homes. Compared to Toronto, the lots are substantial.
The units are designed as single-family homes, but having a finished lower apartment is an option.
Prices range from $279,900 – $399,000.
For Info: www.cannerypark.ca