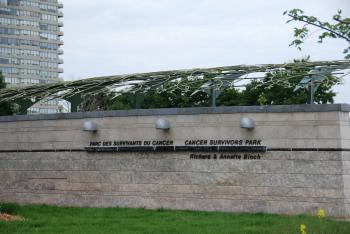 When Richard Bloch was diagnosed with lung cancer in 1978 and doctors told him he had three months to live, he fought back, underwent treatment, and promised himself he would help others struggling with cancer.
Bloch beat the cancer and he and his wife, Annette, established the R&A Bloch Cancer Foundation which runs programs to "inspire and educate" cancer patients and their families.
The couple also founded the Cancer Survivors Park, 23 of which are currently in existence throughout the world. The 24th park, the second in Canada, is being built in Ottawa where Alta Vista Drive, Industrial Ave, and Riverside Drive intersect.
Each park is a reminder that "there is truly life after a diagnosis of cancer," says Mrs. Bloch. "People do survive. The whole idea is to give hope to patients and the motivation to fight and take control of their disease."
In the late 1980's, Bloch fought and beat colon cancer. However, he died of heart failure in 2004.
"[His dream] was to build a park in every city in the United States [to be enjoyed by] over a million people, and in Canada," says Mrs. Bloch.
The process of building a park usually starts with a request from a city mayor, or someone from the parks department, to the R&A Bloch Cancer Foundation for a Cancer Survivors Park in their city. The criterion the Foundation follows is that the proposed park should be in a very visible area and within a metropolis of at least one million people.
The city of Ottawa was chosen because it fulfills both requirements and is also the capital of Canada.
The idea to build a park originated from the desire "to find a place where people who are going through cancer or who are survivors of cancer can meet, get together, and talk" says Mrs. Bloch.
The Blochs did not want to build a memorial but a "tribute to life." Every year, on the first Sunday of June, people join to celebrate life in the parks. The event takes place in 800 cities throughout the United States as well as in other parts of the world. Last year it was also held in Africa, Australia and Belgium.
Each park is unique and representative of the city in which it is located. A contest is held to find the winning design that will be used for the park.
All parks, however, share some common elements, such as Cancer…There is Hope, a life-size sculpture of eight people successfully passing through a maze of cancer treatments, the Positive Mental Attitude Walk which is lined with 14 inspirational and educational plaques, and the "Road to Recovery," lined with seven such plaques.
"The responses of people to these parks have been very positive and beautiful," says Mrs. Bloch.
One story out of many is that of a young man with cancer who used to go every day with his father to the Cancer Survivors Park in Kansas City — the first park — and read the Positive Mental Attitude plaques. He took pictures of them so that he could read them at home and derive inspiration from them. The young man recovered from his illness, and he still uses the pictures.
Besides the Cancer Survivors Parks, the Foundation provides free books to those who are looking for support, information, and inspiration to combat cancer. Mr. Bloch received "letters and letters from people saying your parks and your books saved my life," says Mrs. Bloch.
The couple wrote three books together aimed at helping people with cancer and those supporting them. They also started a cancer hot line, where anyone can call and receive free information and assistance from cancer survivor volunteers who have had similar kinds of cancer.
In addition, Mr. Bloch initiated what is now called PDQ, a computer program whereby people can call a toll-free number (1-800-4CANCER), state their kind of cancer as well as the stage they are in, and immediately receive information about their illness "from all the cancer centers in the United States and 22 foreign countries so that they can decide if what their doctors have told them is the right treatment," says Mrs. Bloch.
The Ottawa Cancer Survivors Park is scheduled to open 24 September at 3:00 p.m.