Canadian Skaters Delight in Stars on Ice Tour
National tour showcases artistry and athleticism
May 8, 2014 3:54 am Last Updated: May 8, 2014 7:45 pm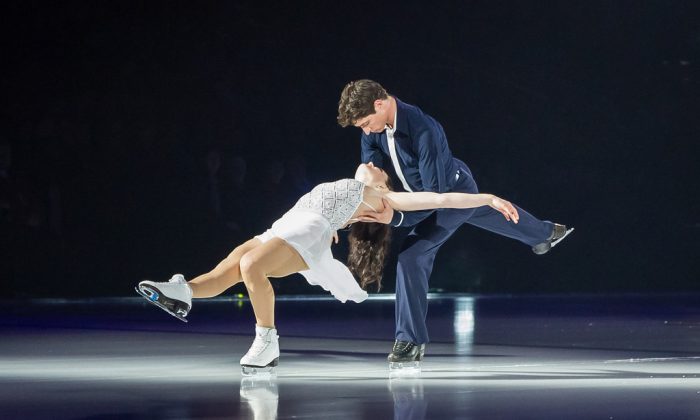 In 1988, Canadian skater Kurt Browning entered the Guinness Book of World Records by landing the first quadruple jump in a competition at the World Championships in Budapest, Hungary. His landing raised the bar and became the standard in men's skating competitions. 
Browning has since become one of the most respected Canadian skaters, with his talent, charisma, and exceptional dedication to the sport winning him a devoted fan following spanning decades.
This spring, the four-time world and four-time Canadian figure skating champion is back on ice as part of Investors Group Stars on Ice, the Canadian branch of the show that was originally started by skater Scott Hamilton in the U.S. 
Alongside the champion young skaters of the day, Browning has been one of the show's most appealing and certainly its most enduring figures, participating every year since its beginning in 1991. Next year, the show will celebrate its 25th anniversary, and Browning along with it.
In an interview shortly before his Toronto show at the Air Canada Centre, Browning's sincere gratitude and appreciation for the sport and the fans who have accompanied him for much of his life was evident. 
"I feel very myself out there," he said of his skating. "I like to act, but it's me. It's me doing something I love, and I hope that's one the reasons why people have been very, very kind to me and not too sick and tired of me yet."
"There's not too many people that get up in the morning and go to work and they're 47 years old, and it's something they love." 
Browning shared the feeling of amazement he experiences every time he takes to the ice and feels that he can do another jump. 
"It's sort of like being reborn every day," he said. "I don't think that you last a quarter century doing something where you're entertaining people if you don't love it," he added.
A Special Partnership 
Olympic champions Tessa Virtue and Scott Moir have been skating since the ages of 8 and 10 years old respectively. 
"It just kind of happened that Scott's aunt coached both of us … so it wasn't really a conscious decision for us. It was just another thing to try, and we had fun with it and kind of just took it year by year," explained Virtue following warm-ups prior to the Investors Group Stars on Ice show in Toronto on May 2. 
During their 17-year partnership, the two have won several skating championships, including gold at the 2010 Vancouver Olympics and silver at this year's Sochi Olympics.
"I think we're old enough to appreciate that we have something special in our partnership, and we don't take that for granted," said Virtue. 
"It's just nice to bounce things off each other and always be there for each other to support one another." 
Skating as part of Investors Group Stars on Ice is a treat for the ice-dancing couple. 
"After such an emotional year with the Olympics, to be able to go across the country and celebrate with our fans is a huge bonus for us, so we're just trying to soak in the moment and enjoy it as much as we can," said Moir. 
"It's nice to be able to do show numbers that don't have the technical requirements and we can just go out there and have fun." 
Team Spirit
Patrick Chan won silver in Sochi, adding another honour to his skating career and contributing to Canada's medal count. But more important for Chan was how his family, friends, and coach viewed his triumph.
"I hope that I gave the best and that they're proud of me," he said. "No matter if I won or lost at the Olympics, that I gave my best, and I hope in people's eyes I was really the best."
It is this feeling that Chan wants to evoke by performing Michael Bublé's "Best of Me" this season as part of Investors Group Stars on Ice. 
As with Virtue and Moir, the show gives Chan the opportunity to reconnect with the sport he loves outside the competitive environment. 
"It feels exhilarating, it feels emotional, and to be able to connect with an audience is really special," he said. 
"And you're by yourself on the ice. You command the ice, you own the moment. It's not like a team sport where you share responsibility—you have full responsibility." 
Chan said the audience plays an important role in a skater's performance.
"You react off the crowd. So if the crowd is really involved, then you really give more energy and more charisma. It's a two-way road." 
For Chan, the team spirit of the Canadian cast of this season's show is very important. 
"We all compete together at competitions, we travel together, and you really create awesome bonds and great relationships," he said. 
"That's why all of our group numbers are so great—we connect really well and get along really well, and it improves the quality of the show." 
Other champion ice skaters this season include Joannie Rochette; Jeffrey Buttle (who also choreographed the group acts); Meagan Duhamel and Eric Radford; Kaetlyn Osmond; Kaitlyn Weaver and Andrew Poje; Shawn Sawyer; and Nam Nguyen. 
Investors Group Stars on Ice is on a 12-city national tour that started in Halifax on April 25, and will conclude May 15 in Vancouver. For more information, visit: www.starsonice.ca