Canadian Retail Sales Unexpectedly Spike, Momentum Projected to Fade
July 24, 2013 11:41 pm Last Updated: July 24, 2013 11:41 pm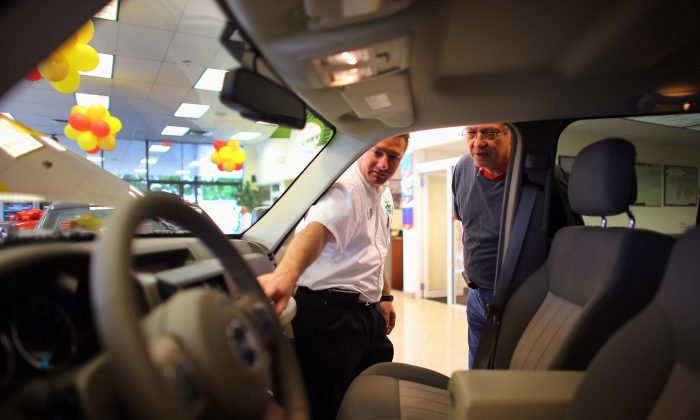 Canada's May retail sales rose by a much better than expected 1.9 percent ($40.4 billion), according to a Statistics Canada release on Tuesday. 
Almost all sectors of the economy made an improved contribution. Most notably, vehicle sales were up 4.3 percent. Excluding autos, retail sales were up 1.2 percent. 
Consensus estimates were for a 0.3 to 0.7 percent increase; the prior monthly gain (April) was a much lower 0.2 percent. The growth rate in retail sales is the largest since March 2010. 
Statistics Canada compiles retail sales by type of store on a monthly basis. Sales estimates for the various types of retail sales are of all goods purchased for resale, net of returns, and discounts.
It is important to note that the increase in retail sales was not due to rising prices, as the volume of retail sales was also up 1.9 percent. 
Nine of 11 major retail sales subsectors showed increases. The two sectors that fell were electronics and appliances retailers and miscellaneous retailers.
Beer, wine, and liquor retail sales rose 2.2 percent. Statistics Canada pointed out that this gain "coincided with a later start to the National Hockey League playoffs." 
Broken down by province, Saskatchewan had the biggest increase in seasonally adjusted retail sales from April to May at 5.0 percent while Alberta increased the most over the past year at 7.9 percent. Ontario's 1.8 percent monthly increase in seasonally adjusted retail sales was very close to the national average of 1.9 percent. 
Monthly retail sales rose in all provinces; however, two of the three territories saw declines.
Raising Growth Estimates
According to estimates by the Bay Street firms, real gross domestic product (GDP) could grow by 0.2 to 0.5 percent in May, with second quarter growth ranging from 1.5 to 2 percent. 
In terms of the financial market's immediate reaction, the strong retail sales number pushed Canadian bond yields higher by roughly four basis points (a basis point is a hundredth of a percent). The Canadian dollar strengthened by $0.002 to just over $1.031 against the U.S. dollar, and reached a one-month high on Tuesday.
Canadian sales data has been trending higher of late with manufacturing sales and wholesale trade sales beating the prior monthly readings. In releases last week, May manufacturing sales rose 0.7 percent after a fall of 2.4 percent in April; wholesale trade sales rose 2.3 percent for May after a 0.2 percent rise in April.
However, the bad news is that May's momentum for growth will likely be slowed by the Calgary flooding and Quebec construction strike disruptions. The Bank of Canada is projecting second quarter growth of 1.0 percent with a rebound to 3.8 percent in the third quarter.
June's retail sales data will be released on August 22.