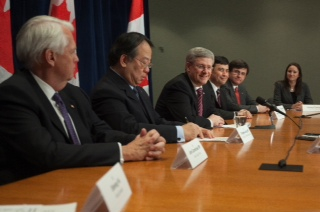 Canadian Prime Minister Stephen Harper brought up human rights and the issue of the long-running persecution of Falun Gong during his China visit last month, Harper told reporters in a roundtable with Canadian Chinese media.
"Whenever we go on these trips, whenever we meet the Chinese leadership, whether it's in Canada or China or in other parts of the world, we always raise a full range of freedom, democracy, human rights, and rule of law issues," Harper said in the roundtable, held March 9.
"To the extent this comes up with our counterparts … the strong point that I always make broadly on, whether it's Falun Gong or any number of other issues, is that in Canada we have over a million people of Chinese descent, including practitioners of Falun Gong," Harper said.
"These Chinese Canadians demonstrate, as do all other Canadians, a capacity to use and to flourish under a system of freedom, democracy, human rights, and the rule of law."
The PM added that Foreign Affairs Minister John Baird and others accompanying him on the trip discussed "fairly detailed" issues related to human rights and the persecution of Falun Gong with Chinese authorities.
"Falun Gong practitioners of Canada are law-abiding citizens who, like their fellow Chinese Canadians and others, make a great contribution to our country," Harper added.
"I believe that China, like Canada, will over time immensely benefit from greater freedom and toleration for not just in democratic rights generally, but for differences in point of view."
Before he left for China, Harper was urged by hundreds of Falun Gong practitioners gathered on Parliament Hill to ask the Chinese communist regime to end its persecution of their practice.
According to the New York-based Falun Dafa Information Center, Falun Gong, also known as Falun Dafa, is a traditional Chinese spiritual discipline that consists of a sitting meditation, four standing exercises, and moral teachings based on the core values of truth, compassion, and forbearance.
The Chinese regime outlawed the practice in 1999 and has carried out a campaign of persecution against its adherents ever since.
In a speech in London last January ahead of Harper's China visit, Foreign Affairs Minister Baird criticized China's human rights record and condemned its crackdown on different groups, including Falun Gong practitioners and Tibetan Buddhists.
At a press conference on Parliament Hill before Harper's trip, Secretary General of Amnesty International Canada Alex Neve said it is vital that Harper speak publicly about rights for it to really have an impact.
"We know from things [Harper] has said and done in the past that he does care about human rights in China, and he cannot lose sight of that during this visit. It is simply too important a time," Neve said.
Noting that Harper has recently been silent on human rights, he said it is important for the prime minister himself to raise the issue of human rights during his trip even though Baird made some comments on the issue in his London speech.
Canadian officials at the United Nations Human Rights Council in Geneva indicated last week that Canada "remains deeply concerned" about the rights of members of religious minorities, including Falun Gong practitioners.
With reporting by NTD Television