Canadian PM Will Raise Human Rights With Hu Jintao, Says Spokesman
June 21, 2010 9:54 pm Last Updated: October 1, 2015 7:49 pm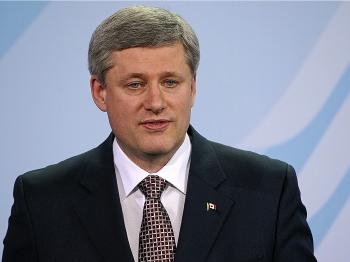 TORONTO—Canadian Prime Minister Stephen Harper will raise the topic of human rights with Chinese leader Hu Jintao when he visits Canada this week, the prime minister's office told media on Monday.
"Yes, the prime minister will raise human rights and will do so in a frank and respectful way," the PM's communications director, Dimitri Soudas, said on a conference call with reporters.
After coming into office in 2006, Harper was vocal in saying Canada would not abandon Canadian values like human rights in dealing with the Chinese. In opposition, Harper's Conservatives had criticized the Liberals for neglecting human rights in a more narrow pursuit of trade.
But with eight Conservative cabinet members visiting China in the last year, each saying little or nothing about the state of China's oppressed, some worry Harper's stance has softened.
Responding to a question from The Epoch Times, Mr. Soudas said that human rights would be on the table, saying it would be part of a "wide range of issues" discussed.
"Promotion and protection of human rights are an integral part of Canada's foreign policy, and our engagement with China, vis-a-vis the issue of human rights, will remain frank and respectful. That's the tone and that's the approach we have taken. I don't see any reason, obviously, to change that."
But the blanket promise is not likely to satisfy groups who say there is a number of specific concerns the prime minister should raise with Hu when the communist leader visits.
Also on Monday, an all-party group of senators and members of parliament called on the prime minister to "specifically raise the situation of Falun Gong practitioners in China and to call for the release of Falun Gong prisoners of conscience, and an end to their persecution."
The request was made in a letter from new Democrat Member of Parliament Bill Siksay, who chairs the Canadian Parliamentary Friends of Falun Gong. Siksay says 12 family members of Canadians are imprisoned in China for their belief in Falun Gong. "It is our hope that you would raise their cases directly," he wrote to the prime minister.
On Tuesday, a coalition of groups concerned about human rights in China will hold a press conference inside Canadian parliament to press the prime minister to raise a range of serious human rights concerns, including the case of Huseyin Celil, a Canadian citizen of Uyghur descent who is serving a life prison term in China on controversial charges.
Falun Gong practitioners and Tibetan activists are also expected to be among those holding large rallies while Hu visits Ottawa, Wednesday through Friday.