Canadian-Made 'Elephant Song' Premieres in Ottawa
September 30, 2014 6:50 pm Last Updated: October 1, 2014 3:30 pm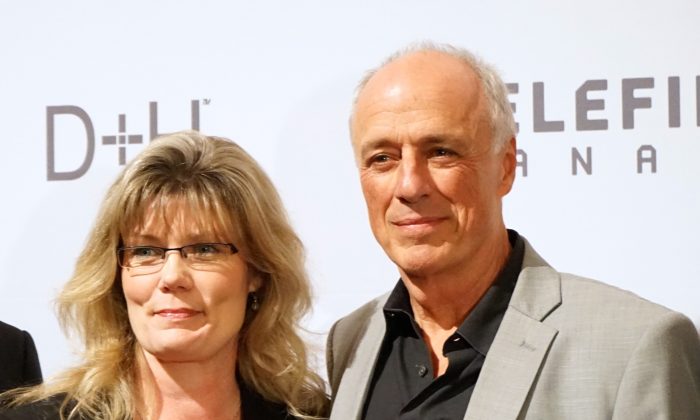 "Elephant Song," a Canadian-made suspense drama that debuted at the Toronto International Film Festival last month, premiered at Ottawa's National Arts Centre on Sept. 29 presented by Heritage Minister Shelly Glover and Telefilm Canada.
The event was attended by director Charles Binamé, producer Richard Goudreau, and comedian Mark Critch from "This Hour Has 22 Minutes," who supplied the laughs by plying Glover and Binamé with some outrageous interview questions.
Binamé, who hails from Montreal, said he hoped the movie would give the audience something they "can chew on and digest and become more enlightened with the world that they're in and who they are."
The choice of "Elephant Song" was interesting on several levels. The movie, which will soon be available for general release, is an adaptation of a play by Nicolas Billon. While it retains some of the look and feel of a play, it is saved by flashbacks and timed sequences that backfill events.
The story tells of a cat-and-mouse game between Michael (Xavier Dolan), a psychiatric patient who was the last person to see a missing psychiatrist, and Dr. Toby Green (Bruce Greenwood) who is trying to find his vanished fellow staff member.
Through interview sequences, the movie slowly reveals what is really going on with Michael and why Dr. Lawrence (Colm Feore) is missing. "We unveil in layers what's happening," said Binamé in a talk prior to the premiere.
This essentially three-person film takes place in a psychiatric hospital in the 1960s where Dr. Lawrence has not shown up for work and Dr. Green wants to elicit information from Michael—a manipulative and highly intelligent patient—in an attempt to find out what has happened.
Green seems to be out of his league when handling Michael. There's one person, Nurse Peterson (Catherine Keener), who understands Michael and is able to keep him in line, but Michael is adamant that he doesn't want Peterson involved in the conversations with Green.
Binamé said the film is "a puzzle of sorts." 
"Think of it as though you've got a bag full of pieces but you don't know what the end picture is going to look like. So take the pieces, try to make sense of what's going on and try to see what's coming."
Burgeoning Film Industry
The director and producer, along with representatives of the companies that sponsored the event, talked about how the Canadian film industry is burgeoning and creates many thousands of jobs in Canada.
"Now not only this film provides us with that sense of identity as Canadians, but it is a huge economic driver," Glover said of "Elephant Song."
"Did you know that the arts, culture, and heritage sector in Canada provide almost $50 billion to this wonderful economy and 647,000 jobs depend on this industry? That is an industry that is bigger than many of the ones that you think are the largest."
Dolan, also a Montrealer, is a 25-year-old film prodigy who writes and directs films in addition to being a riveting and accomplished actor. He has made four feature films and "Mommy," his latest, has been listed as a candidate for an Oscar in the foreign film category.
When James Moore was heritage minister he started Movies on the Hill nights to give parliamentarians from across the country an opportunity to view Canadian films and to show them why it is important to invest in Canada's film industry both economically and culturally.
The mandate of Telefilm Canada, a Crown corporation headquartered in Montreal, is to stimulate demand for Canada's audiovisual industry, which it does through regional offices in Vancouver, Toronto, Montreal, and Halifax. Telefilm Canada chose "Elephant Song" for Monday night's viewing.
The NAC foyer, where the after-film reception was held, was decorated with props from the movie including a hospital bed and pictures of elephants to help maintain the movie theme while attendees met the moviemakers.