Canadian Bison Aid Russian Conservation Project
April 3, 2013 6:47 pm Last Updated: April 6, 2013 10:25 pm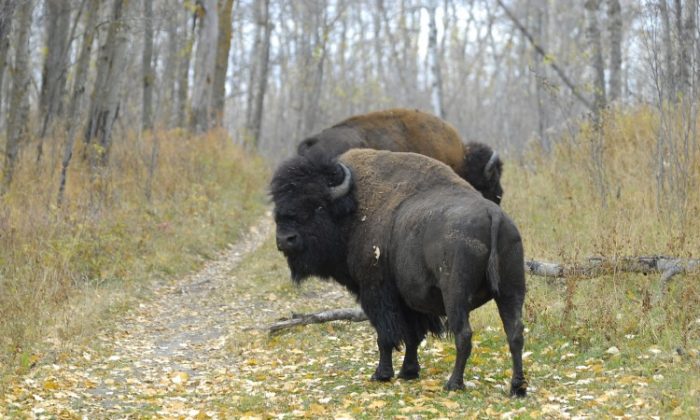 Thirty wood bison have been shipped from Edmonton to Sakha, Russia, as part of an ongoing effort to establish a wood bison herd there.
The transfer of the bison from Elk Island National Park in Fort Saskatchewan, Alberta, comprised the third batch headed to Russia. Previous transfers took place in 2006 and 2011, with 30 bison shipped each time.
"In contributing to a significant international conservation project, we support the continued survival and well-being of an iconic and majestic animal and ensure that bison still live in our world today," Peter Kent, environment minister and minister responsible for Parks Canada, said in a statement.
Russian representatives were in Canada to observe and participate in the selection and preparation of the bison, which were flown from Edmonton to Yakutsk, Russia, on March 21.
In 1906, five early conservationists—elk hunters who observed a decline in the area's elk population—established Elk Park, whose name was changed to Elk Island National Park in 1913. Plains bison and later, wood bison were brought to the fenced park to establish disease-free conservation herds.
Most of today's surviving plains bison are descendants of the Pablo-Allard herd, the last large herd of wild plains bison which were shipped to Elk Island from Montana in 1906 in order to save the species from extinction.
Since there are no natural predators in the park, some bison are removed periodically to preserve the grazing habitat. Those bison have been used for conservation projects in Yukon, Northwest Territories, northern B.C., Alaska, and Russia.
Canada was first presented with a proposal to help introduce and establish a wood bison herd in Sakha in 1997. Wood bison—the closest living relative to prehistoric bison—closely resemble the bison that made Sakha their habitat around 5,000 to 6,000 years ago.
The initial shipment of bison to Sakha was prevented by logistics and costs, but eventually a mining company in Sakha agreed to provide its aircraft to ship the animals.
With the most recent transfer, the number of bison in Sakha has grown and reproduced over the years to total more than 120.
"From its earliest days to today's latest relocation of wood bison to Russia, Elk Island National Park has a long and successful history of caring for and safely relocating wildlife," said Alan Fehr, field unit superintendent for Elk Island and Prince Albert National Parks.
Elk Island is celebrating its centennial this year.