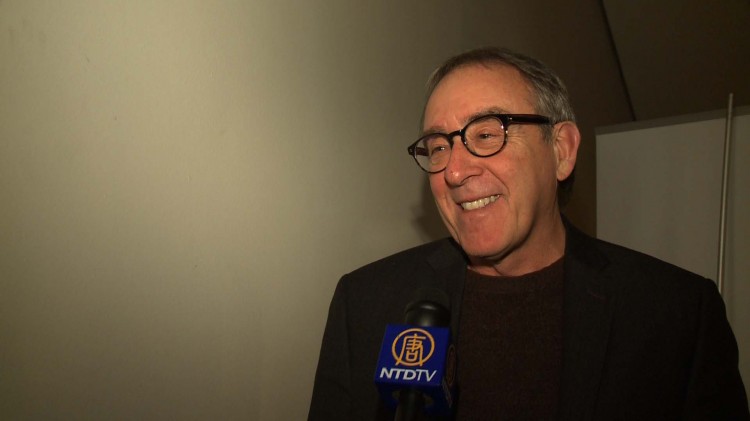 OTTAWA, Canada—Canadian filmmaker, artist and fine-art photographer Richard Austin was stunned and overwhelmed by the beauty and power of Shen Yun Performing Arts at the National Arts Centre on Saturday.
Mr. Austin attended the Dec. 29, 2012 evening performance and said the experience was incredible.
"It's magnificent, so unexpected and so much energy and power and artistry," he said, adding he appreciated the "especially beautiful" music of Shen Yun's original orchestra.
"It's overwhelming, there's just so much music and dance."
Mr. Austin has had his photography exhibited all over the world for the past 30 years and has made over a dozen short films including At Last and the award-winning documentary Heather Crowe's Legacy.
Mr. Austin was deeply impressed by the talent and expressivity of Shen Yun's dancers, who perform stories from traditional Chinese culture through classical Chinese or ethnic and folk dance.
"I'm amazed at the performance of dancers, they have so much energy, so much beauty and synchronicity," he said.
"It's really beautiful and its quite expressive how the story is told through movement and colour."
Mr. Austin said Shen Yun "unveiled the mystery" of China's 5,000-year-old culture.
"Its traditional Chinese culture like you've never seen before," he said.
New York based Shen Yun is a world-renowned classical Chinese dance and music company that aims to revive traditional Chinese culture through the performing arts.
One of the most memorable stories for Mr. Austin was a piece entitled, When Shaolin Monks Protected the Emperor. The story, set in a secluded Buddhist monastery, tells how monks fended off assailants to rescue the founder of the Tang Dynasty, Tang Taizong.
"I liked it very much—I liked the energy and the action," he said. "I liked the colours of that piece too—the browns and the beiges was reminiscent of monasteries I've seen."
He added many of the colour combinations in Shen Yun's costumes and backdrops were extraordinary.
"Oranges and browns and yellows and blues—All of the colours were magnificent," he said.
Mr. Austin said many of the characters in Shen Yun's stories were archetypal, and brought to life by "very good acting."
He said he admired Shen Yun for its artistic mission to revive the traditional culture and stories that have been nearly destroyed by years of suppression under the Chinese communist party.
"I think it's important as an artist to be free and express yourself as fully as you can," he said.
"The freedom of the artists and the need to express yourself truly without prohibitions, and without the chains of dictatorships."
Mr. Austin said after watching Shen Yun he will recommend the show to others and bring home memories of "colour and movement" and the "passion of the people, the dance and the great story."
Reporting by NTD Television and Justina Wheale
New York-based Shen Yun Performing Arts has three touring companies that perform simultaneously around the world. Shen Yun's New York Company will be in Ottawa until Dec. 30 before going on to Montreal, Toronto, and other cities in eastern Canada.
For more information, visit ShenYunPerformingArts.org
The Epoch Times publishes in 35 countries and in 20 languages. Subscribe to our e-newsletter.