Can Nadal Pass Federer?
September 11, 2013 5:30 am Last Updated: September 11, 2013 5:50 am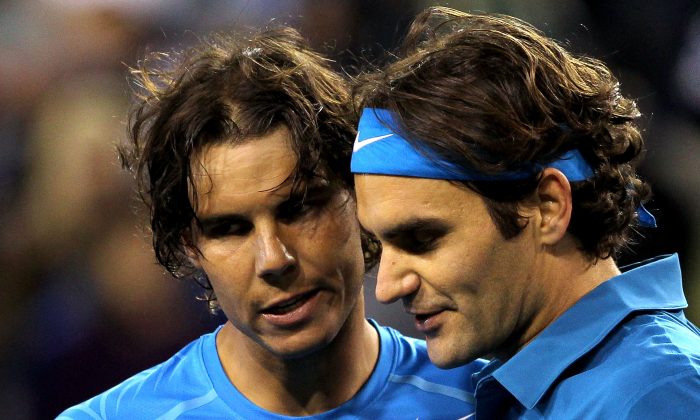 Rafael Nadal's four-set drubbing of Novak Djokovic Monday night gave Nadal his 13th major title—moving him to within four of Roger Federer's record 17.
Now in sole possession of third place in the all-time Grand Slam list, it seems a given that the 27-year-old Nadal will soon tie and then pass Pete Sampras's once-thought impossible-to-reach-number of 14 titles and challenger Federer's mark. But can he catch Federer?
Though no one knows the future, we're going to break down several factors and take an educated guess.
Federer's Final Total: The first question is whether Federer is done at 17.
Now 32, Federer had his worst Grand Slam season since 2003, seeing his consecutive quarterfinal streak (36) end at Wimbledon and continue at the U.S. Open.
Should he get his back healthy, there is some precedent to winning a major after blowing out 32 candles.
Andre Agassi won the Australian in 2003 at the age of 32 years and eight months. Beyond him, Andres Gimeno won the French in 1972 at 33, while Ken Rosewall won the French in 1968 at 33 as well. Two years later Rosewall followed that up by winning the U.S. Open and then followed that by taking the next two Australian Open titles, the last at age 37.
We'll be generous and assume the great Federer can pull it off one more time and finish with 18—five more than Nadal currently has.
Record Against Contemporaries: The way Nadal played Monday night, five more titles seem like a cinch. After all, this is the same guy that routinely dominates the clay surface at the French Open like none other, having won eight of the last nine titles at Roland Garros. Plus he has a winning record against each of his major competitors: 22–15 against Djokovic, 13–5 against Andy Murray, and 21–10 versus Federer.
But it should be noted that Djokovic is 3–3 versus Nadal in Grand Slam finals and gave Nadal his closest ever French Open match (not including his injured appearance in 2009) earlier this season.
Age: At 27, where was Federer and how does Nadal compare to him?
Federer had won 12 majors at the time of his 27th birthday, while Nadal, who turned 27 on March 6, was one behind him with 11.
So age-wise, Nadal is slightly behind.
After turning 27 Federer, like what Nadal has done thus far in 2013, continued on his Grand Slam tear winning four of the next six majors. By the time he turned 29, the younger crowd of Djokovic, Murray, and a healthy Nadal had caught up and even passed him. He's made two Grand Slam finals appearances since, winning Wimbledon last summer.
Injuries: The resilient Federer hasn't missed a major since 1999. He's still going.
Nadal, on the other hand, hasn't been so fortunate.
In 2009, Nadal lost in the fourth round of the French Open (his only loss ever at Roland Garros) and then bowed out of Wimbledon, citing knee pain. A year later he had fully recovered, winning the French, Wimbledon, and his first U.S. Open.
In 2012, Nadal bowed out in the second round at Wimbledon and then had to back out of the Olympics with what was later revealed as a partially torn patella tendon. He would go on to miss the U.S. Open and the following Australian.
Injuries are probably the biggest key here. Let's say the injury pattern continues and three years from his latest injury (2015) Nadal has another major knee problem that forces him to miss a significant amount of time. He would already be at the age (29) that Federer naturally started to slow down.
Injuries would seem to actually speed up the age-process though. It seems unlikely he would win another major in that scenario.
That would mean that Nadal would have to win five of the next eight majors, something he's come close to but never achieved.
The Verdict: Nadal wins four more and finishes with 17 majors, while Federer gets number 18 in the process.
Only time will tell.