Fire officials once issued a warning after a crystal doorknob started a fire in a house.
A coat was reportedly removed from the glass doorknob, allowing for the sun's rays to become focused on nearby clothes, the Kilburn Times reported.
Clare Thomson, who was at home at the time of the fire, told the outlet: "I was amazed at how intense the … sun could be and I was amazed at how quickly a small fire could take place. I dread to think what would have happened if I had not been at home."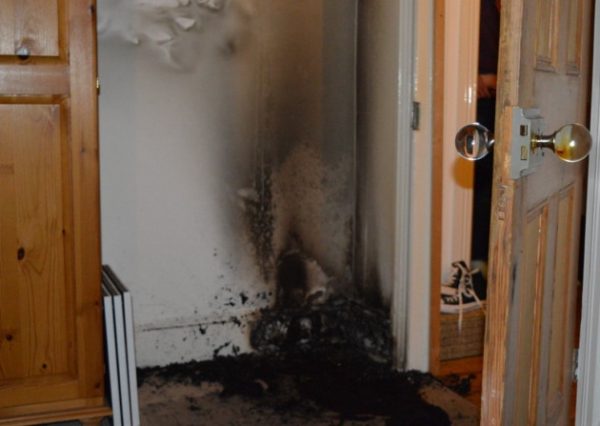 "Since the fire, I have been asking all my friends if they have smoke alarms, and if they know that they are actually working and checked," she said. "I would advise people not to buy crystal doorknobs, and I would advise home stores to be aware of the fire risk when stocking. Or, at least, such doorknobs should come with a warning."
Firefighters were able to put the blaze out and her family returned home.
The crystal doorknob strike again, this time in #Willesden. Thankfully there were no injuries https://t.co/mNKyMWswHe pic.twitter.com/vgwOCqctUY

— London Fire Brigade (@LondonFire) September 23, 2016
Charlie Pugsley, head of the London Fire Brigade's investigation team, told the outlet: "These sort of incidents are not as rare as you would think. I've seen everything from sparkly doorknobs and crystal balls to glass fish bowls and Nutella jars containing crystals starting fires.
She added: "Crystal and glass ornaments and items such as shaving mirrors should be kept out of direct sunlight. The homeowners were extremely lucky and they were alerted to the fire by their smoke alarm."
She called on people to put in working smoke alarms in their homes.
The London Fire Brigade said that there were about 125 light refraction cases involving fires in about five years, according to Country Living. Not all of the fires were doorknob-related.
Apparently, the sunlight, when reflected via the glass surface, direct a ray of heat similar to a magnifying glass.
In another incident in 2014, a glass doorknob-triggered fire was blamed for the destruction of a $2 million home's room, The Telegraph reported.
"The focal length from the window was just the right distance and it became the same principle as when you try to set fire to paper with a magnifying glass when you are a child," the fire brigade also said.
Hot Water Bottles
The doorknob warning is similar to warnings from fire departments about leaving water bottles inside cars on hot days.
Georgia fire officials have issued a warning about leaving water bottles inside cars.
As the temperatures rise over the summer months, hot water battles can heat up and even cause a fire inside a hot car, said the Bainbridge Public Safety in Georgia to Fox8 on June 4.
The sunlight, according to the report, can cause a fire.