Campaign to End Violence Against Women Kicks Off
April 15, 2013 6:19 pm Last Updated: April 16, 2013 9:44 am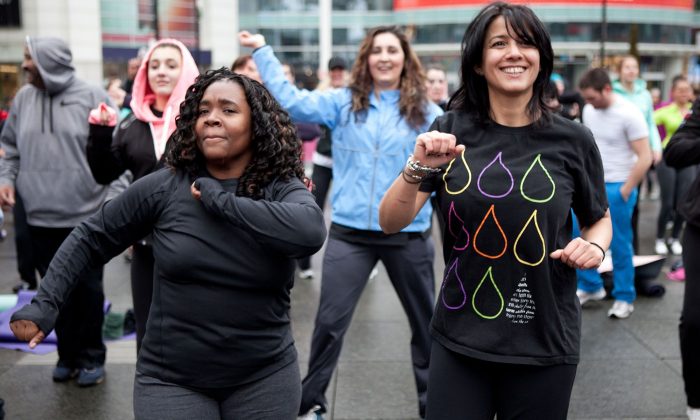 During the month leading up to Mother's day on May 12, the Canadian Women's Foundation is asking Canadians to support its "Shop for Hope" initiative to help women who have been victims of violence.
Conducted in partnership with Winners, HomeSense, and Rogers Media, the initiative raises funds to support more than 445 shelters for abused women and their children, as well as community violence prevention programs that help break the cycle of violence.
From April 13 to May 12, products such as T-shirts, baby onesies, and chocolate bars can be purchased at Winners and Homesense, with the proceeds going to help women and children in local communities across Canada.
The initiative is part of the Canadian Women's Foundation's annual campaign to end violence against women, which kicked off April 13 with Move for Hope, a national pledge-based, one-hour workout event in seven cities across the country. The event raised almost $400,000.
According to the foundation, two-thirds of Canadians know a woman who has experienced abuse, and violence against women remains a serious issue.
"Violence can destroy women's self-confidence, making it difficult for them to believe that there is a way out. Through this annual campaign, we want to raise hope for women who have experienced abuse as well as build awareness about the issue of violence against women in Canada," says president and CEO Beverley Wybrow.
"Supporting and investing in shelters and violence prevention programs across Canada provides women access to safe places to go after escaping abuse and opportunities to learn the skills they need to rebuild their lives and live free from violence."
When women escape an abusive relationship, they often leave with just the clothes they're wearing. In light of that, people can go online May 10 through May 12 to the Winners Facebook or HomeSense Facebook pages and symbolically choose essential items such as pants, sweaters, and towels that women would need to rebuild their lives after leaving a shelter.
For every consumer interaction, Winners and HomeSense will donate $50, up to a maximum of $50,000, to the campaign. "Hope" decals for $2, $5, or $10 can also be purchased. For more information visit canadianwomen.org