DEL RIO, Texas—The primitive camp that sprung up under the international bridge is completely cleared of people, officials said Friday.
Illegal immigrants, primarily Haitian nationals, streamed across the Rio Grande earlier this month and into Del Rio, a small border city about 160 miles west of San Antonio.
Almost 15,000 were living in the litter-strewn camp at one point, Texas officials have said, putting a strain on local healthcare resources amid the COVID-19 pandemic.
The camp was steadily cleared by Department of Homeland Security (DHS) assets and on Friday had zero immigrants left, Del Rio Mayor Bruno Lozano, a Democrat, said during a briefing shortly after noon.
Workers are still working on cleaning up the site, he added. Once that's complete, the international bridge will be reopened.
"Last weekend, we had approximately 15,000 individuals in the Del Rio section. I committed to addressing that within 10 days and now we have none," DHS Secretary Alejandro Mayorkas told reporters in Washington.
Nearly 30,000 illegal immigrants have been encountered in Del Rio since Sept. 9, Mayorkas said. Approximately 12,400 have already been released and given a date to appear in court or have been requested to check in at a federal immigration office within 60 days. Some 8,000 returned to Mexico voluntarily. Another 5,000 are being processed to determine whether they should be expelled or let go with a notice. And approximately 2,000 were deported to Haiti on 17 repatriation flights.
The Epoch Times witnessed a number of illegal immigrants in Del Rio on Wednesday getting ready to board buses to go to Houston and other cities in the interior.
"We remain in touch with them, we monitor them to ensure they appear in court," the secretary said.
Some groups and Democrat lawmakers have called for deportations to end entirely while others, including most Republicans, say more of the aliens should be deported. The Biden administration is using federal law and Title 42 pandemic powers to expel some illegal immigrants, but is letting others go, including unaccompanied minors, or illegal immigrant children who arrive without a responsible adult.
The makeshift camp in Del Rio may not be shut down for long. Several large groups of migrants, totaling up to 30,000, are in Monterrey, Mexico, and headed towards the U.S. border, according to intelligence briefed to Lozano.
He said that he didn't know what the Mexican government would do about the groups but that he was told Border Patrol would be ready to respond.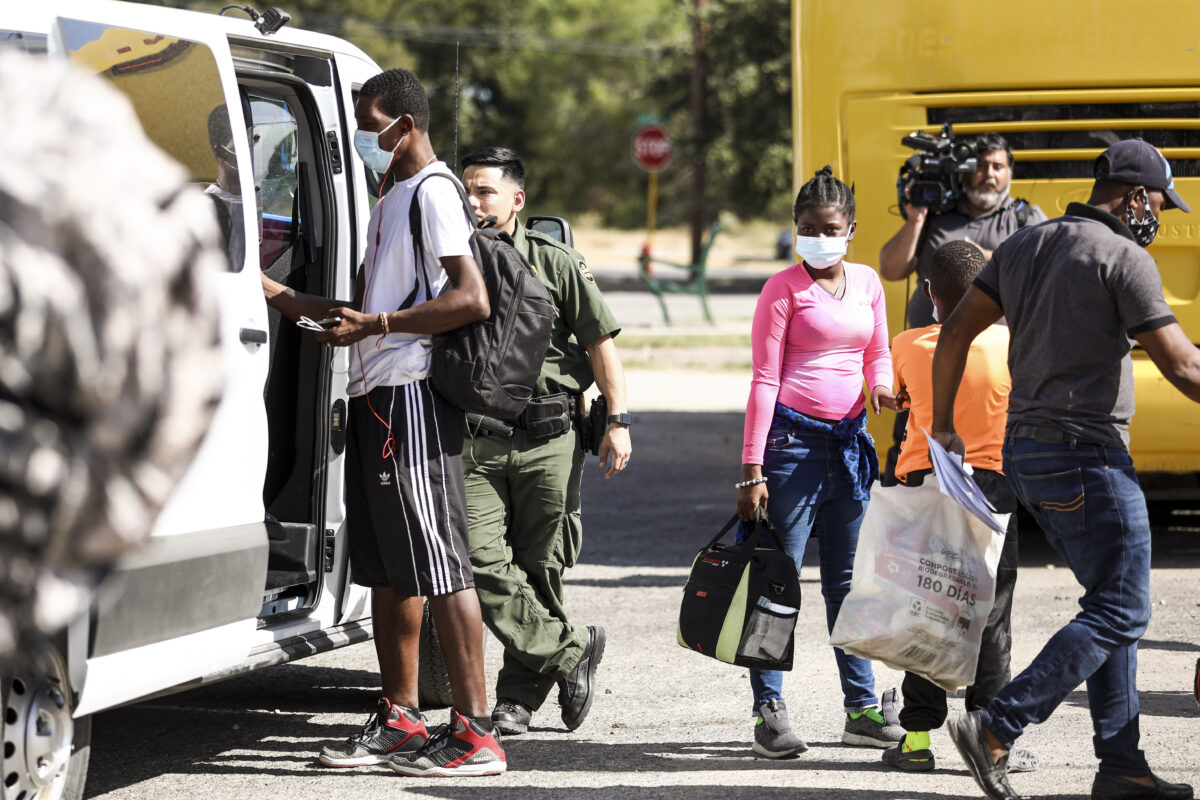 President Joe Biden and the White House have primarily focused in recent days on chastising Border Patrol agents who were criticized for trying to block illegal immigrants from entering the United States. Some news outlets falsely stated the agents whipped immigrants.
"Those people will pay," Biden told reporters in Washington on Friday, without commenting on the surge in illegal immigration.
The White House also suspended the horse patrol unit in Del Rio, a key method border agents use to stem the rush on the border. Horse patrols are also used extensively to find the illegal immigrants who evade Border Patrol and try to gain access into the United States undetected.
Lozano said he witnessed many scenes of agents assisting the illegal immigrants in the makeshift camp under the international bridge, including putting a pregnant woman who was going into labor on a stretcher and rushing her to an area hospital.
"It's unfortunate that—and I'm just going to say this—that the White House continues to be silent as far as the humane treatment and the moments that I witnessed down there," the mayor said.
He also said he has still not spoken directly to Biden or Vice President Kamala Harris, adding, "My message is just, let the people know what happened on our end."