The Sony video camera used to capture the March 3, 1991, beating of Rodney King in Los Angeles is set to be auctioned on July 30, with bidding starting at $225,000.
The camera, a Sony Video8 Handycam, is accompanied by a notarized letter of authenticity from George Holliday, the man who captured the grainy footage from his apartment balcony in Lake View Terrace, California, according to auctioneer Nate D. Sanders.
On the night of the incident, Holliday recorded King being beaten repeatedly by multiple police officers, four of whom were later charged with excessive force and acquitted by a jury of all charges on April 29, 1992—leading to the deadliest, most destructive riots in L.A. history. The uprising killed 63 people and caused an estimated $1 billion in property damage.
The camera includes all of its original accessories, but has been rendered unusable and does not include the actual footage of the beating.
Auction Manager Laura Kirk told The Epoch Times that the original footage is "still in the possession or custody of the FBI."
"Mr. Holliday didn't get the video camera back from the FBI until a few years ago," Kirk said.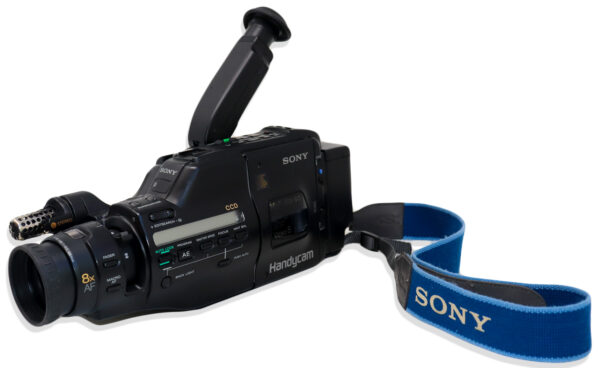 Holliday, then a 31-year-old plumbing salesman, captured video of the brutal beating during the arrest of 25-year-old King for drunk driving following a high-speed chase. King died by drowning in 2012.
Holliday initially approached the Los Angeles Police Department with the video he captured, but when the LAPD wasn't interested, he brought the tape to local television station KTLA.
The auction's catalog calls the results of the televised, unedited video "a firestorm" that laid "the groundwork for the anti-police brutality movements such as Black Lives Matter that are so relevant today."
The catalog calls the footage "the first viral video" that "shined a light on police misconduct" and "ushered in the modern era of citizen journalism." Holliday became a trailblazer overnight.
"I just think Mr. Holliday thought it was a good time for him personally" to sell the camera, Kirk said.
The camera is available for online bidding until 5 p.m. on July 30—though if there are multiple bidders, the closing time will be extended until only the highest bid remains for 30 minutes, the website states. Interested buyers can either place the bid through Sanders' website or call in directly.