France is considering banning police from using weapons like rubber bullet launchers and "sting-ball" grenades, following serious injuries during "yellow vest" protests.
Several protesters are alleged to have lost eyes and had limbs mutilated after being hit by the explosive weapons.
"Sting-ball" grenades contain TNT explosives and can eject small rubber balls and teargas to inflict pain and deafen targets. France is the only European country that uses them.
Despite most protesters being peaceful, French armed police have become a prominent sight, dressed in black riot gear and launching teargas in an attempt to quell potential violence.
In recent weeks, they have come under increasing pressure not to use excessive force, with images of bloodied protesters circulating widely on social media.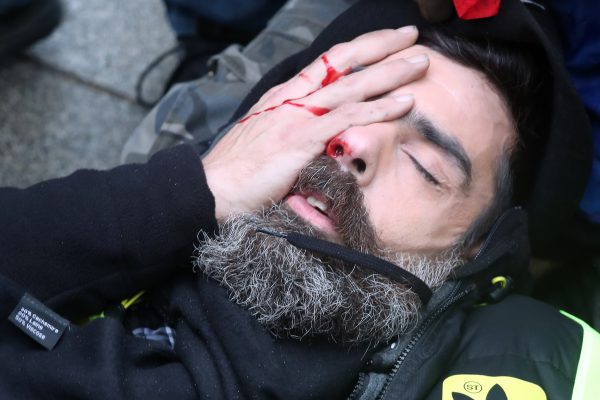 On Jan. 26, prominent "yellow vest" protester Jerome Rodrigues was hit by a projectile launched by the police, sustaining a serious eye injury that his lawyer says has left him disabled for life.
Following the incident, interior minister Christophe Castaner announced there would be an internal investigation to discover what had happened.
Castaner also said riot police would be required to wear body cameras if they intend to use projectiles, but that they needed to act proportionately.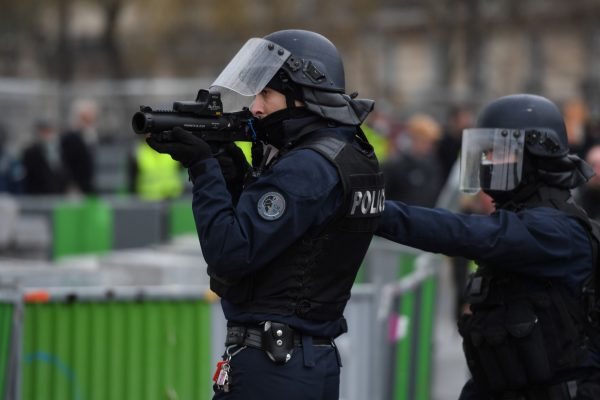 "I have complete confidence in our security forces, but it's true that at the moment, for example, the great majority of our police forces have had to suspend their training," he told Reuters.
There have been 1,900 people injured since the start of the protests in November, according to Castaner, adding that 1,200 police officers had also been injured. He did not specify the nature of the injuries.
'No Reaction From Government'
The French Human Rights League and the CGT trade union have requested a ban on the specialized rubber bullet launchers used by police during the protests, warning they are dangerous.
Paris-based lawyer Ainoha Pascual is representing a man who had part of his hand torn off, and another who has been partially deafened.
She said the use of weapons like these was a "very real problem."
"In the 1980s, if one person was hit in the eye at a demonstration there would be a huge reaction, yet now there is no reaction from government," she told the Guardian.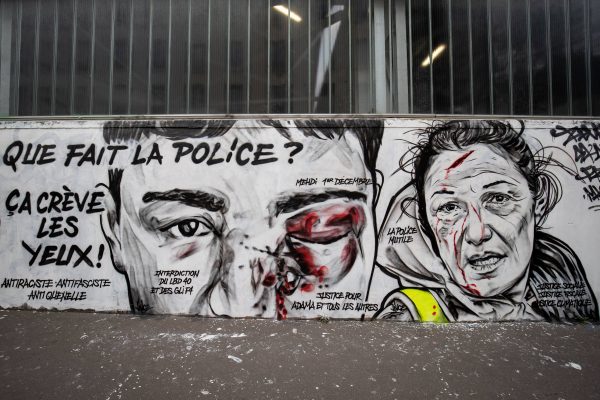 Lawyer Philippe De Veuille said the weapons used by police, although non-lethal, can cause "very serious injuries."
"There is a whole question of law enforcement methods that needs to be reviewed," he told Reuters.
According to a survey published on Jan. 18, over half of French people oppose the use of rubber bullets.
The injuries aren't limited to protesters—passersby have also been struck by stray projectiles.
One 80-year-old woman in Marseille died last month after being hit by a police teargas canister, while a passerby in Paris was hit by a rubber bullet.