Hundreds of protestors showed up at roadside rallies in Los Angeles and San Bernardino counties on Feb. 25 to cheer on truckers and supporters from across the U.S. who plan to join The People's Convoy before it reaches Washington, D.C., in early March.
Though no big rigs showed up at rallies in El Monte and Fontana, demonstrators turned out in droves to fly flags and banners to show their support for truckers in Canada and the United States. Many waved combination flags emblazoned with the red-white-and-blue American stars and stripes and the red-and-white Canadian maple leaf emblem.

Truckers and passersby honked their horns to signal support for the protestors who are calling for an end to the state of emergency and lingering COVID-19 mask and vaccine mandates in California and other states.
The Freedom Convoy USA has now merged with The People's Convoy, which rolled out of California on Feb. 23. The convoy reached Amarillo, Texas, on Feb. 26 and was headed to Elk City, Oklahoma.
Greg Abdouch helped support Freedom Convoy USA 2022 in Fontana, where about 450 people showed up for an overpass rally at the Beech Avenue overpass on Interstate 15 in Summit Heights, he said.
"It was excitement and anticipation. Everybody was pumped up," he told The Epoch Times. "We were playing music. We prayed over the truckers' convoy."
In El Monte, the dearth of big rigs didn't stop more than 150 people from gathering and donating supplies for the convoy. The rally was held near an overpass at the junction of CA 60 and Rosemead Boulevard.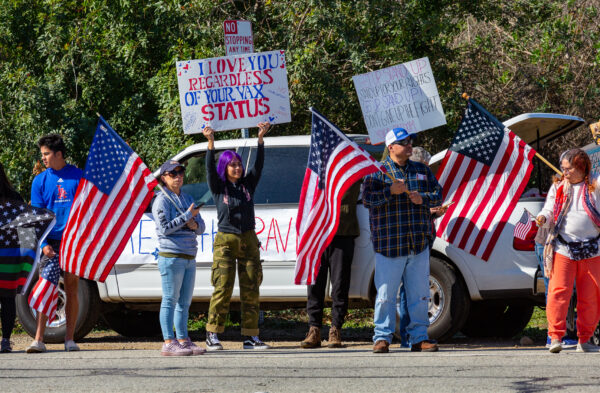 Shauna Scanlon, 68, of Montrose said Canadian and American truckers had taken the lead to restore freedom, and "I think a lot of us should be doing the same."
"We're just trying to make a statement not only to the Americans and the government, but to the world, that as a people we have to stand up for our rights and always stand on the side of freedom," she said.
"This is my one way that I can come and support the truckers who are putting their lives on the line and putting their jobs aside just to stand up for freedom, for the constitution, and for our rights, because we have government overreach everywhere you look, from the federal government down to the state level," Scanlon said.
Marci Donovan, 45, of Rosemead said the truckers were representing everyone.
"Freedom is a God-given right, and it was never the government's to take away. I'm hoping by standing here that more people are brave and stand, because I feel like we will defeat this only through unity," she said.
"It's time to stand together. … God Bless America and be brave. It is contagious."
Donovan Bourbon of Rosemead urged the news media to strive harder to bring the truth to light.
"If truth is not voiced, we have nothing," she said.
Gina Mirano, 58, of Covina, urged more people to get off the couch and fight to "stop the madness—vaccine mandates and masking schoolchildren."
"I have grandbabies," she said. "We need to stand up. We need to do something," she said. "We just can't sit at home and watch TV all day."
Yolanda Campos, of Los Angeles, said politicians have taken too much power away from the people by "chipping away at our freedom."
"Mandates are not laws," she said.
"It's bigger than just mandates. Once you let them get away with things, it just keeps getting worse and worse. … Before you know it, it becomes a small slice of the pie, then becomes a whole pie. We've got to take care of this now," she said. "I watched everything that was happening in Canada with the convoy, and it's not an isolated thing."
Brenda Titus, 56, of Orange County, vehemently opposes vaccine mandates.
"I am out here for many reasons, but mostly the choice of freedom that so many of our fellow Americans gave up for a $50 gift card," she said.
The ultimatum to "either receive this injection or lose your job" should have been a "huge wake-up call to all of us," she said. "Think of our forefathers. If they were here watching this today, what do you think they would say to us? That's why I'm out here."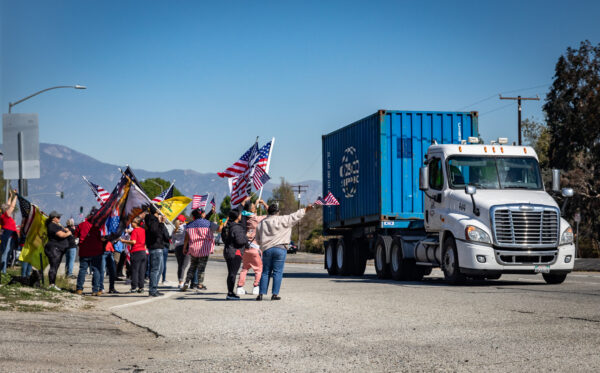 Didi MacPherson, a Gold Star mom of Stanton, California, said she couldn't stand by and watch when she learned that her friends might lose their jobs if they don't get the vaccine.
"I'm out here to support our Canadian neighbors and ourselves to have our countries drop these silly mandates. I feel like if you want to get a vaccine, get a vaccine. If you want to wear a mask, wear a mask, but don't make everybody else do the same thing, especially when we know the science doesn't stand behind it now."
MacPherson's son was killed in Afghanistan in 2009.
"I can't just sit by. I can't. My son fought for freedom for us, for other people around the world, and we have got to stand up and be free," she said. "Freedom isn't free. And I know that firsthand."
Mexican immigrants Arturo and Lilia Flores of Azusa, California, carried a crucifix and several signs, one that read "Jesus Loves You."
"I am here to support truck drivers because they are doing a lot for all of us. They're fighting for our rights. I appreciate what they're doing," Arturo said. "God bless them, and God bless their families, too."
Lilia said she would like to see an end to the mandates "for a better future for the whole world."
Jerry Piani of Westlake Village was flying several flags from the bed of his pickup truck when he arrived to cheers at the El Monte rally.
"It's called freedom," he told The Epoch Times, "and we're going to take it from Southern California all the way to Washington, D.C."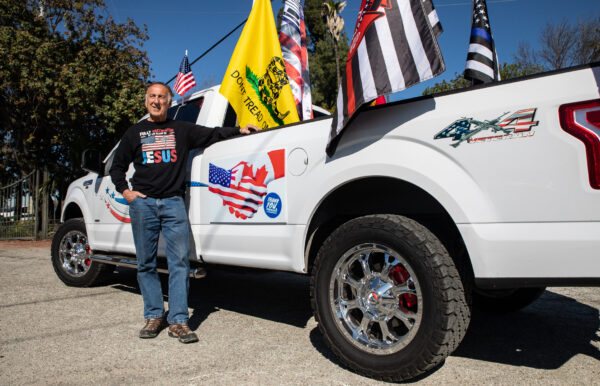 Piani said he's grateful for truckers standing up for freedom, but that it's taken too long for Americans to unite and demand an end to mask and vaccine mandates.
"We want to stop these mandates and stop the emergency order and get the kids unmasked in school—just get back to normal," said Piani, who is now following with Mark Perez, Freedom Convoy USA's California organizer, to catch up with The People's Convoy in Oklahoma.
Canadian Prime Minister Justin Trudeau was wrong to smear truckers, freeze the truckers' donation funds, cut off their fuel supply, threaten to confiscate their "unattended" dogs, and even freeze private bank accounts, Piani said.
"What they did in Canada, I don't ever want to see happen here in the United States. Never," he said.
The Freedom Convoy USA group won't enter D.C. proper but still has plans for a rally at the National Mall, California organizer Mark Perez said at the rally.
One man, who asked to be identified only as Henry, told The Epoch Time he doesn't think the convoys are a good idea.
"In a time of public health measure, just like in a time of war, the country has to be unified in an effort to either win a war or win a medical health emergency. We've all got to work together," he said.
Henry said he trusts the government to decide what's in the best interest of public health.
"The truckers don't have a plan in place to deal with COVID. Their plan is not wearing a mask. Their plan is to do whatever they want. That's not going to cure COVID."
The state of emergency and mandates will end "when the researchers find that COVID is no longer a threat or when the researchers believe that the mask mandate should be loosened," Henry said.
He blamed former President Donald Trump for not acting soon enough to contain the spread of COVID-19 at the outset of the pandemic.
Henry suggested people who don't wear masks should get second priority for medical treatment if they get sick from COVID. They shouldn't be allowed to "take up a spot" in a hospital emergency room "that somebody else deserves," he said.
"If they get infected, don't go to the hospital. Don't be hypocrites. You gambled your life. You played Russian roulette not wearing a mask," he said. "Why should you go take up a space that belongs to somebody else?"
Alberto Garcia, 51, of La Puente, a member of the Knights of Columbus and a union carpenter is fed up with constant pressure from the government and unions to get vaccinated.
"We're being hoodwinked," he said. The masks "don't save lives," and the vaccines are experimental, he said.
Zulma Mazariegos, of Santa Ana, urged Californians to hold politicians accountable to ensure they are "actually working for the people, not against the people."
Big government has tried to separate people through social distancing to "kill the human spirit," she said.
"California used to be a beautiful state, and it's actually turned into something that just goes against everything the Constitution stands for," she said. "I'm here to support the truckers because they're standing up to the tyranny that's happening not just here in the state, but across the country and around the globe."