Californians Line Up for Dunkin' Donuts
September 3, 2014 1:49 pm Last Updated: September 3, 2014 2:34 pm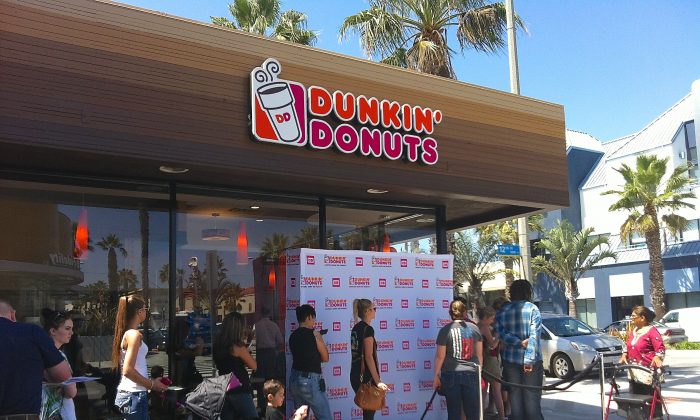 SANTA MONICA, Calif.—Dunkin' Donuts has been working on its brand image in recent years, particularly pushing its coffee drinks as crowd-pleasing, cheaper alternatives to Starbucks coffee. 
That marketing seems to have paid off as fans have been pestering Dunkin' Donuts via Twitter and email to come back to California. 
And now it has. The company opened one store in Modesto, Calif., in late August and one in Santa Monica on Tuesday.
The Santa Monica location is the first "full expression" Dunkin' Donuts in Southern California (as opposed to a small stand or kiosk) after the few locations that existed in California closed about 10 years ago.
The first person to line up for the new store came on Sunday night at 9:30 p.m. He was awarded free Dunkin' Donuts coffee for a year.




The first full Dunkin' Donuts restaurant opens in Southern California in at least a decade on Sept. 2 in Santa Monica, Calif. (Eric Zhang, Epoch Times)
Catherine Aguilar was one of hundreds who stood in line for the opening of the Santa Monica location. She said she has been waiting for a Dunkin' Donuts to open in the area since she moved from Boston 20 years ago. When she was a child, she said her family would buy a box of Munchkins, Dunkin's famous bite-size donuts, on Sundays.
"I just remember the smell and just the excitement of opening the box," she said.
When the store opened at 5:00 a.m. Tuesday, about 400 people were in line. By around noon, they ran out of Munchkins.
It's 8:16 and the line is still growing! We love you, LA!! <3 DDLA #DunkinLA pic.twitter.com/GRdHf7oFqT

— Dunkin' LA (@DunkinLA) September 2, 2014
Other upcoming locations are planned for Long Beach, Downey, and Whittier by the end of the year. In the long term, the company hopes to open more than 1,000 locations in the state with 200 planned in the next few years.
Dunkin' Donuts, a subsidiary of Dunkin' Brands Inc. was founded in 1950. It is based in Canton, Mass., and has nearly 11,000 restaurants in 33 countries worldwide.