With his deep red tie and blue and white button-up shirt, Mark Meuser, Republican candidate for California's secretary of state, appears to make a patriotic statement as soon as he steps into a room.
The native Californian, entrepreneur, and election law attorney is running against Democratic incumbent Alex Padilla in the November election.
An avid outdoorsman, Meuser made waves recently in July and August by completing a 5,000-mile bike tour of all 58 counties in California, holding 100 promotional rallies along the way.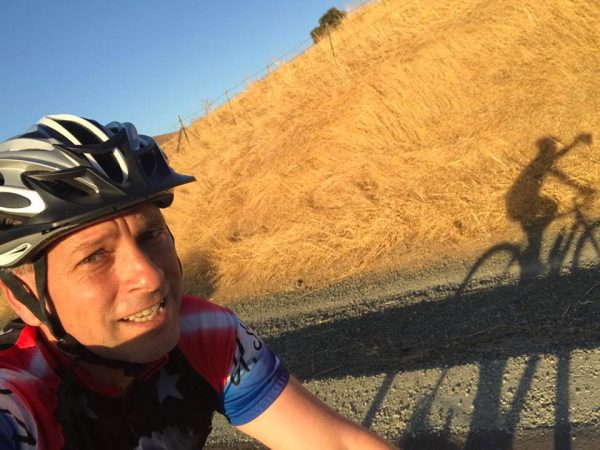 "I'm focusing my message mainly upon elections. It's where I'm most qualified, and it's one of the reasons why I was recruited," said Meuser to The Epoch Times.
Among other responsibilities, the secretary of state is California's chief election officer, who is tasked with keeping an accurate voter registration list and managing state ballot initiatives.
Meuser said citizens of the state are concerned their vote may not count or that the election process may have flaws.
"Election integrity is not a left or a right issue. The only people who do not want to talk about election integrity are those special interests who game the system to promote their agenda over the wishes of the people," he said.
Criticism of California's Voting Process
California's voting process has recently come under the radar as 1,500 people, including at least one non-citizen, were mistakenly registered to vote between April 23 and Sept. 25, as reported by the Department of Motor Vehicles (DMV) on Oct. 8.
California's primary election was held on June 6, and current secretary of state Padilla has said he doesn't know if any of those people voted in the primary.
In September, the DMV was found to have made mistakes on 23,000 voter registrations, such as giving people the wrong political party preference and sending the information of non-qualified people to the secretary of state.
According to the MIT 2018 Elections Performance Index, California has the third worst election process in the nation. The index is based on information such as registration problems, ballots rejected, voter turnout, and voting wait time.
MIT cited the 2016 National Voter Registration Act report (pdf) issued by the Election Assistance Commission (EAC), which found that California was one of nine states that had more people registered to vote than were eligible, with a 100.1% registration rate.
A recent investigation by the organization Judicial Watch also found a total of 11 counties in California with over 100% voter registration. California was found to have about 101% registration, while Los Angeles County had a registration rate of 112%. The group has since filed a federal lawsuit against the state.
In 2017, the ACLU also sued secretary of state Padilla after 45,000 mail-in ballots were rejected because their signature had changed over time. A superior court judge ruled that rejecting the ballots without warning was unconstitutional and required California to first notify voters in the future.
Meuser said the fact that a variety of organizations have sued the current secretary of state indicates that the criticism is not based on partisanship.
"My job is to bring to the voters attention that the current secretary of state, the person who we vote for to make sure we have integrity in our election process, to make sure the people know there is somebody who is responsible for our elections, that they're not doing their job," said Meuser.
Motor Voter Trouble
The Motor Voter Act was signed into federal law in 1993 and requires states to provide people with the opportunity to register to vote when they apply for or renew a driver's license.
In California, starting in April 2018, those who applied for a driver license, ID card, or change of address at the DMV were automatically registered to vote by the California secretary of state, unless they chose to opt out of the automatic voter registration.
In 2015, California enacted AB60, which required the DMV to issue driver licenses to people who could not provide proof they were in the country legally.
According to the DMV, anyone applying for an AB60 would be blocked from registering to vote, since the computer system was designed to "grey out" the voter information section as soon as a DMV technician typed in AB60.
However, Meuser said those same safeguards are not in place for non-citizens who are in the country legally.
"There's nothing in the law that says now a legal immigrant with a green card paperwork is not going to be automatically registered to vote, because they don't have an AB60 drivers license, they have a regular drivers license," he said.
Over the past 10 years, Meuser said he's seen many cases of people who are in the country legally being deported for accidentally registering to vote and then voting, which is a federal crime.
"It's the secretary of state's job to remove anybody's who's ineligible to vote. Because he's not doing his job, he's taking all those legal immigrants and turning them into victims," he said.
Meuser said that in California, if a non-citizen finds out they were registered to vote, they can fill out a form at the county registrar in order to be removed from the voter registration list. However, this method puts the responsibility on the non-citizen, who may not have intended to register to vote to begin with and may not be aware that they were registered incorrectly at all.
At a press conference in Sacramento on Oct. 9, Padilla described the recent 1,500 voter registration errors as "unacceptable" and the fault of the DMV. He said the option of freezing the Motor Voter program was "certainly on the table."
What is the Solution?
California's election system needs to participate in more audits and investigations to identify and fix these problems, said Meuser.
When President Trump implemented the short-lived Commission on Election Integrity, California was one of the states that refused to turn over voter information to the commission.
However, increased transparency will inspire voter confidence in the process, said Meuser.
"As secretary of state, we need to get that blue ribbon seal of approval," he said. "Whether you are a group on the right or a group on the left, we need to open up that process, so that the people can feel assured that the government is doing their job."
During the primary election in June, around 118,500 names were left off the Los Angeles County voter registration list, due to a software error. In 2016, some California residents complained they never received their mail-in ballot in time to vote.
Combined with the additional recent registration problems, Meuser said California has a lot of work to do to improve it's election process, so that people can feel confident that their vote counts.
"If you are going through the green card process to become a citizen, don't vote. It's not worth it. If you are a citizen, then please do vote. Take the time to be educated, because you're here in America, and in America we have the right to choose our representatives. And choose carefully."