California Republicans are demanding answers about why the FBI raided former President Donald Trump's Mar-a-Lago home in Florida earlier this week.
Republican Congresswomen Michelle Steel and Young Kim, both Californians, questioned the "unprecedented raid" on a former president's home, while some residents protested at multiple FBI office locations.
"I find the lack of information from the FBI very troubling and believe Attorney General [Merrick] Garland owes the American people a swift and thorough explanation for why this unprecedented raid took place at President Trump's personal home," Steel said in a statement.
The FBI executed a search warrant, signed by U.S. Magistrate Judge Bruce Reinhart, of Trump's Palm Beach residence on Aug. 8.
Since then, FBI Director Christopher Wray has issued a statement defending the bureau, and Garland commented briefly about the raid at a press conference.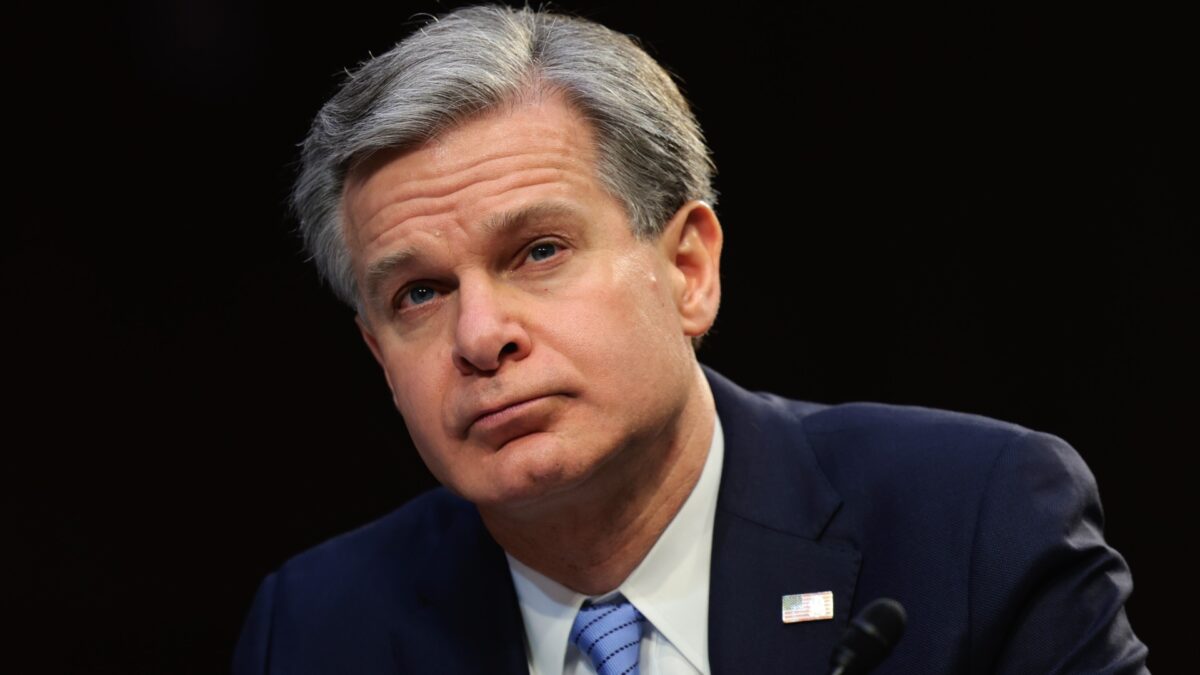 "Unfounded attacks on the integrity of the FBI erode respect for the rule of law and are a grave disservice to the men and women who sacrifice so much to protect others," Wray said in a statement on Aug. 8. "Violence and threats against law enforcement, including the FBI, are dangerous and should be deeply concerning to all Americans."
The FBI search is part of an ongoing probe initiated by the National Archives into whether Trump kept confidential documents when he left the White House in January, 2021.
Garland made his first public comments about the raid at a press conference held at the Department of Justice (DOJ) headquarters on Aug. 11, stating that he "personally approved the decision to seek a search warrant."
Deborah Pauly, president of the Conservative Patriots of Orange County, organized a small protest of about 30 people outside an FBI office in Santa Ana, Calif., on Friday.
"We're out here protesting the tyrannical behavior of the FBI under the Biden administration," Pauly told The Epoch Times. "Their actions actually struck fear in the hearts of … [many] citizens that they couldn't come out and exercise their First Amendment right to protest what they consider to be an unlawful action against a former president and current political opponent. That is like a banana republic right there."

Pauly said her group questions the validity of the search warrant, which must be issued by a "neutral and detached magistrate" according to search and seizure laws.
"As the facts are being exposed, it's pretty clear the judge who issued that warrant is a biased partisan," she claimed.
Another protester, Orange County resident Lan Nguyen, said, "I'm here to support President Trump. He is the president for the people, and I'm here to let the FBI know what they did to the president is wrong."
Protesters chanted "Defund the FBI," and "Let's Go Brandon," to the sound of cheers and honks from passing drivers.
Greg Brittain of the Redlands Tea Party Patriots helped organize a similar protest in Riverside on Wednesday. The raid, he said, has shone the light on FBI and DOJ intimidation tactics and exposed the "Democratic Party's two-tiered system of justice—or injustice."
"With that spotlight, we felt it was important to defend President Trump and not remain silent. It was a good opportunity to show everyone—or as many as we can—what's happening with this corrupt and politicized federal law enforcement, and the threat that it poses to our freedom and Republic," Brittain told The Epoch Times.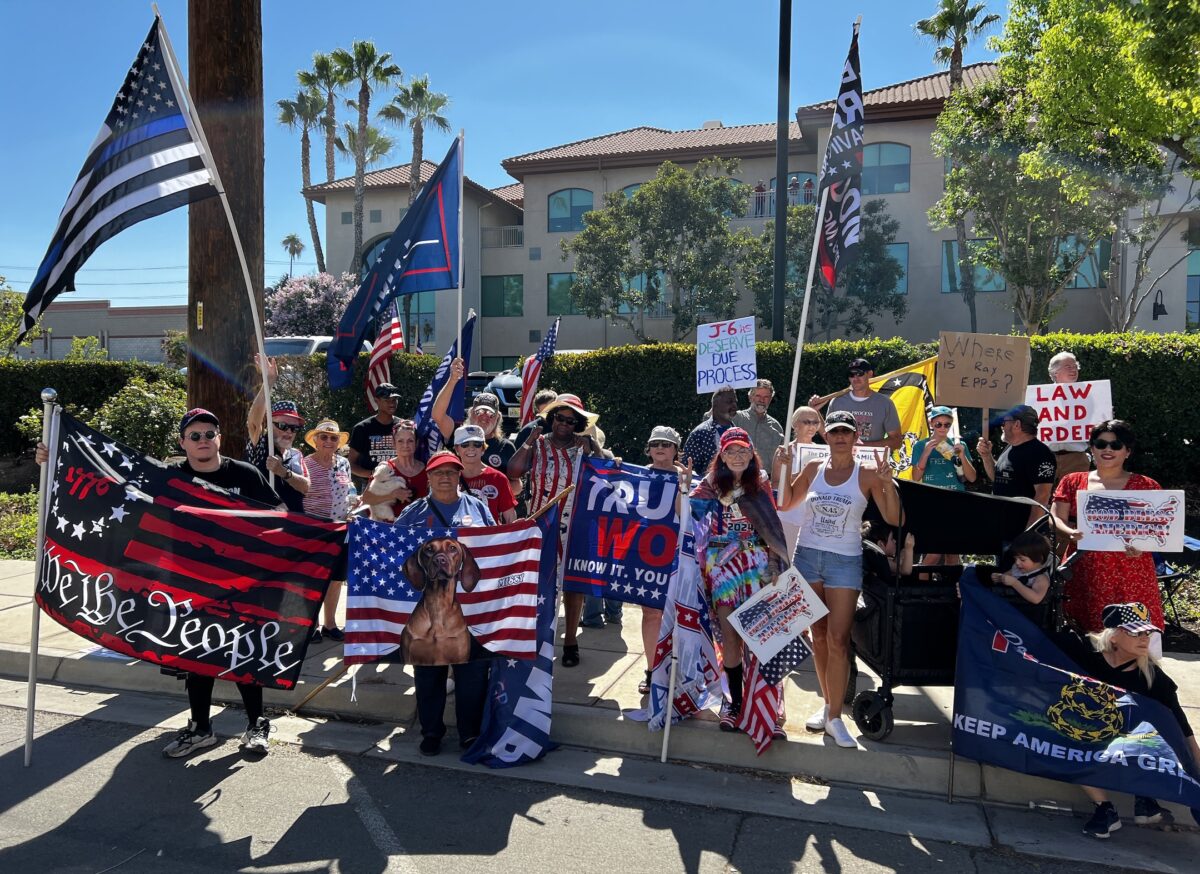 Brittain, who also hosts a radio program and leads a coalition of conservative groups in California's Inland Empire called Unite IE, accused the FBI of intimidation tactics aimed at anyone who doesn't agree with "the party line of the regime."
These tactics and cancel culture have forced many patriots to "shut up if they want to keep their jobs and businesses," he said.
Brittain quoted President Harry Truman, who said: "And when even one American who has done nothing wrong is forced by fear to shut his mind and close his mouth, then all Americans are in peril."
Toni Ringlein, founder of Unite911.com a conservative activist group, organized a protest in Palm Springs where, she said, about 30 people showed up.
"It's completely outrageous," she said. "Those of us who've been paying attention and following along for the last few years—we know that it was a bogus raid."
Ringlein called the raid an "absolute" abuse of power.
"And, if it can happen to President Trump, it can happen to any one of us," she said. "We understand that the Trump administration and President Trump had been cooperating all along with all of the investigations that they have against him trying to catch him on something. I believe it was done because the left is running scared. They know if he runs for president again that he will win hands down."

Eric Early, a former Republican candidate for state attorney general, questioned the "purported basis" of the search warrant.
"The frenzied far left and their mainstream media enablers must be reined in. This search warrant should never have been issued," Early said.
House Minority Leader Kevin McCarthy stated, "Attorney General Garland: preserve your documents and clear your calendar."
"I've seen enough. The Department of Justice has reached an intolerable state of weaponized politicization. When Republicans take back the House, we will conduct immediate oversight of this department, follow the facts, and leave no stone unturned," McCarthy said.
Meanwhile, House Speaker Nancy Pelosi (D-San Francisco) said "no person is above the law" in response criticism over the raid during an Aug. 9 Today interview. "We believe in the rule of law. That's what our country is about. And no person is above the law. Not even the president of the United States. Not even a former president of the United States."
Most other House Democrats have remained silent about the issue, according to news reports.
Democratic Congresswoman Katie Porter, who is running for re-election in Orange Country did not respond to inquiries, nor did her campaign office.