California Attorney General Rob Bonta has launched an investigation—along with a handful of other states—of China-based TikTok, regarding the social media platform's potential involvement in the worsening U.S. mental health crisis among children.
This month, the attorney general's office announced an investigation into what it said was the platform's negative impact on children and young adults and "what TikTok knew about those harms," according to a March 2 press release.
"Our children are growing up in the age of social media—and many feel like they need to measure up to the filtered versions of reality that they see on their screens," Bonta said in the statement.
"We know this takes a devastating toll on children's mental health and well-being. But we don't know what social media companies knew about these harms and when. Our nationwide investigation will allow us to get much-needed answers and determine if TikTok is violating the law in promoting its platform to young Californians," he said.

According to Bonta, California will lead the investigation alongside Florida, Kentucky, Massachusetts, Nebraska, New Jersey, Tennessee, and Vermont.
And on March 5, Bonta filed an amicus brief in support of the state of Tennessee in its own case seeking a court order requiring TikTok to produce subpoenaed materials and evidence that possibly shows TikTok Chinese owner ByteDance is aware of its negative impact on children's mental health.
The amicus brief alleges that TikTok has not preserved evidence, namely internal employee chat messages, and is hindering the investigation of Tennessee and other states, including California.
"We know that social media is taking a devastating toll on young people's mental health and well-being, and through our investigation, we are getting a clearer sense of TikTok's role," Bonta said in a statement, also on March 5. "TikTok cannot evade accountability … and we are asking the court to order TikTok to cooperate with our investigation.
"Our children are hurting and we have no time to waste in our efforts to determine if TikTok is violating the law in promoting its platform to young Californians," he added.
State investigators have shown that social media, especially TikTok, may be a significant cause of mental health problems among American kids and teens, and that the platform knows about these risks to some degree because it has already put rules in place in other countries, like China, to limit how much time young people can use the app.
TikTok swept the nation by storm beginning in 2016. Since then, it has become the number one choice of 40 percent of Gen Z users to search for information, even over Google, according to a TechCrunch study last year.

According to Los Angeles high school civics teacher William Reusch—a podcast host and advocate for critical thinking in modern education—he has noticed the platform significantly affects young girls. It's not uncommon, he said, to walk down school hallways or pass by classrooms and see students filming themselves dancing for trending TikTok videos.
"They are addicted to it and they are focused on that way more than probably more productive things," Reusch told The Epoch Times.
Trending dances often go viral on the app, thus encouraging others to create their own versions.
Other trends have not been so harmless, such as last year's so-called "Blackout Challenge" where kids used household items to strangle themselves until they became unconscious.
Mother of three and founder of the Facebook group Informed Parents of California Stephanie Yates told The Epoch Times the content on TikTok inevitably influences children and can cause anxiety due to peer pressure.
"The anxiety is going to come in because they're constantly scrolling, looking at videos over and over again," Yates said. "They're communicating with people who have an agenda of their own."
Her children, ages six, nine, and 18, are not allowed to use TikTok, she said.
"It draws our kids into something that we don't even realize because children may not come talk to their parents, because there are people online influencing and grooming them against what the parents are protecting them from," she said.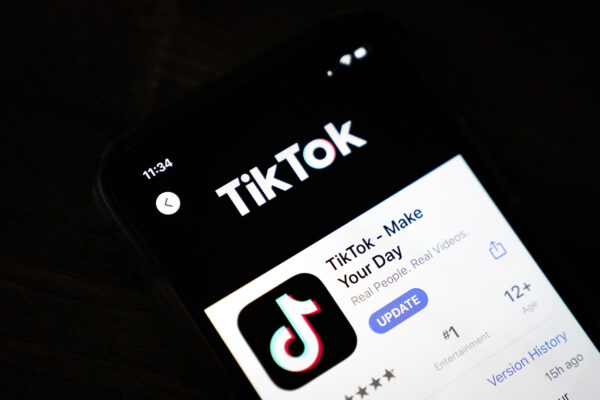 According to a survey conducted in the fall of 2021 by the Centers for Disease Control and Prevention released last month, there has been a significant rise in mental health challenges, incidents of violence, and suicidal thoughts and behaviors among teenagers.
The survey—which was part of a decade-long overview of teenagers' behavioral trends—also revealed that girls are affected more than boys, with 57 percent of high school girls surveyed saying that they experienced "persistent feelings of sadness or hopelessness" in the previous year, twice the rate compared to boys.
Additionally, almost a third of the surveyed girls have seriously considered committing suicide which was nearly 60 percent higher than the rate a decade earlier.
The study found more than one in 10 girls have attempted suicide, indicating a 30 percent increase from a decade ago.
The Epoch Times reached out to TikTok representatives and ByteDance for a request for comment but did not hear back by press deadline.