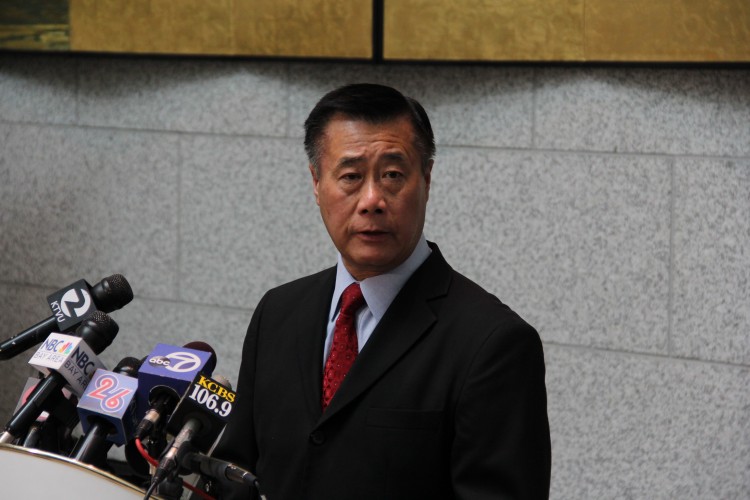 SAN FRANCISCO—California State Senator Leland Yee said that a death threat made against him will not deter him from pushing forward with gun control legislation.
"The threat just simply makes our resolve a lot stronger that we've got to deal with this gun violence in our society right now," Yee said at a press conference at the Hiram Johnson State Building in San Francisco Thursday.
A man from Santa Clara was arrested in connection to the threat made against Yee on Tuesday. The California Highway Patrol (CHP) discovered weapons and explosive materials at the suspect's home.
Last month Yee's office received a threatening email. "The author of the email specifically stated that if I did not cease our legislative efforts to deal with gun violence, that he would assassinate me in or around the Capitol," the senator said.
"This threat was unlike any other I had ever received. It was not a racist ranting on my culture and my heritage, but instead it was rather deliberate and specific. … As a psychologist I know very well that the more detail you provide the more serious the threat," Yee said.
Last month Yee introduced several pieces of gun control legislation. Most prominently, legislation SB 47 is designed to strengthen California's assault weapon ban by prohibiting the use of so-called bullet buttons and other devices that allow for easily changeable bullet magazines.
While Yee's previous attempts with similar legislation failed last year, the Democratic super-majority in Sacramento and a climate in favor of gun control are making it more likely for the legislation to pass.
The suspect, Everett Basham, was charged with threatening a public official and the illegal possession of explosive materials, said Scott MacGregor, chief of CHP's Protective Services Division at the press conference. CHP and other law enforcement units are still collecting evidence at Basham's home.
"This threat and any others will not deter me from addressing the critical issues surrounding gun violence," Yee said.
The Epoch Times publishes in 35 countries and in 21 languages. Subscribe to our e-newsletter.