SAN JOSE, Calif.—At the corner of a busy intersection in downtown San Jose, a group of demonstrators gathered, dressed warmly for the chilly weather. They held up black signs with white and red text.
"Vaccine mandates violate bodily autonomy," one said. "Vaccine makers are exempt from liability," said another. 
Cars passed, with some honking in support. Angry shouts came from others—"Vaccines save lives!"
The protesters in San Pedro Square Market on Jan. 11 aimed to draw attention to two laws that limit parents' ability to receive medical exemptions from vaccinating their children. 

New Vaccination Laws
Senate Bill 276 went into effect Jan. 1. It was passed with a companion bill, SB 714, in September last year. Senator Richard Pan (D-Sacramento) introduced both bills on the premise that many families were inappropriately obtaining medical exemptions for their children so they could attend school without being vaccinated. 
In 2015, California started prohibiting personal belief exemptions. Pan argued that personal-belief objectors began to instead seek medical exemptions and obtain them under false pretenses. 
That claim has been much-debated.
A 2018 study published in the journal Pediatrics did report a concern among healthcare staff that doctors were issuing unwarranted medical exemptions. As of October last year, a total of three doctors had been charged by the Medical Board of California with negligence in issuing exemptions. 
Under the new law, the state will review medical exemptions as suspect in a few cases. Those cases include when a doctor writes more than five exemptions in a year, and when a school's immunization rate falls below 95 percent. 
Most states still allow exemptions for religious or other reasons, although a handful of states have abolished non-medical exemptions in recent years.
California is taking it a step further with these new laws scrutinizing medical exemptions. 
A Parent's Worries
Elaine Shtein, one of the protestors at San Pedro Square Market, has two children who currently have medical exemptions. 
Her daughter will be going into 7th grade next year, a vaccination checkpoint age. Now that SB 276 is in effect, she said her daughter could be kicked out of school if she chooses not to update her vaccinations.
If she encounters any problems with receiving a new exemption, Shtein said, "We're actually looking to move out of the state." 
She believes a round of seven vaccines her son received at the age of 15 months caused his autism. 
"I was that mom who followed the rules, listened to my doctor, didn't think to question vaccines or medical professionals. And he is now severely autistic. He cannot speak, he needs 24-hour care. He's now 10, and we've been at this for years and years and years, and so I'm super passionate about teaching other people what I wish I had known," said Shtein.
"Actually do some research and look to the other side. If then you still want to vaccinate, that is your choice," Shtein said. "We live in America. You can decide to feed your kids McDonald's, you can decide to feed your kids organic food, you can decide to use cannabis, you can decide to use pharmaceuticals. We have choices."
Vaccines Safe, Says CDC
The Centers for Disease Control and Prevention (CDC) website states: "The United States' long-standing vaccine safety program closely and constantly monitors the safety of vaccines. … Data show that the current U.S. vaccine supply is the safest in history."
CDC recommends an immunization schedule totaling 69 vaccines by age 18.
Officials and scientists have widely acknowledged that some vaccines can cause anaphylaxis, a potentially deadly allergic reaction, in a small number of cases. A special federal vaccine court handles these cases and awards some compensation for this kind of vaccine injury. 
But other serious side-effects reported by thousands of parents remain officially unacknowledged and many label them as "debunked." 
Medical exemptions are generally intended for children who have had severe allergic reactions to previous immunizations, children who are immunocompromised, and children with similar medical reasons for abstaining.   
Pan, who is also a pediatrician, said in a statement after Newsom signed the bills, "I thank the Governor for standing with science, and once again making California a leader in safeguarding children and communities from diseases that threaten our public health.
"It is my hope that parents whose vulnerable children could die from vaccine-preventable diseases will be reassured that we are protecting those communities that have been left vulnerable because a few unscrupulous doctors are undermining community immunity by selling inappropriate medical exemptions." 
Informed Decision
Joshua Coleman, another of the protesters, said the demonstration wasn't about asking people not to vaccinate. It was about asking people to consider the matter more deeply.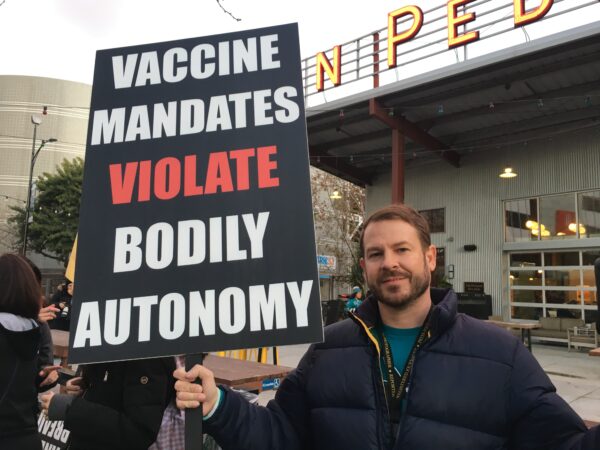 His 10-year-old son is in a wheelchair after suffering from transverse myelitis at 17 months old.
"Vaccines are trying to train your body by allergic reaction to react to disease," said Coleman. "His immune system got confused and started attacking the myelin around his spinal cord and did permanent damage."
"A lot of people who see me on the street with my son … ask me, 'What happened to him?' and I say, 'This is a vaccine injury.' The most common response is, 'What's that?' Because most people have no idea that vaccines can hurt you," he said.
"We're not asking people to support legislation or not to support legislation," he said. "It's more like a informed-consent demonstration."